A few years ago it was quite difficult to imagine that additive technologies would become so popular. Now, 3D printing is becoming an ordinary part of our everyday lives. More and more people take up 3D modeling and printing as a hobby and buy printers of their own. And though it is undoubtedly a very fun and engaging activity, it is also a great opportunity to start a well-paying business. So whether you want to set up an online shop, create a platform for selling custom 3D models, or just to share your best 3D creations on your website, take a closer look at these five WordPress 3D printing plugins.
3DPrint
3DPrint is a great tool for those who are looking into starting a 3D printing business. This plugin allows clients to order custom 3D models by uploading their own digital models to your website. They can then choose the preferred filament, color, and size of the model, and see the estimated cost of the finished products right away. If the approximate charge fits their budget, customers can request the exact price from the admin using the convenient "Request a Quote" button. More than that, 3DPrint Lite offers customizable pricing options, which allow charging either per model weight, filament volume or bounding box volume.
This plugin provides STL, OBJ, and ZIP file format support. 3DPrint Premium, the paid version of the plugin, enables support for other formats, such as STP and IGS. In addition to that, the premium version offers a model to repair and optimization features, as well as direct WooCommerce integration.
Phanes 3DP
Phanes 3DP is a powerful plugin that makes it possible to turn your WordPress or WooCommerce website into an online store for selling 3D printing services. Though this plugin is free to download and use, it provides a wide range of features. With Phanes 3DP you can provide your customers with Instant Quotes and Checkout Options on your website. In addition to that, the software's Astroprint integration will help you to fulfill your orders without a hitch. You can create amazing 3D images like the following Levitating moon lamp.
Phanes 3DP allows you to add as many filament attributes and prices as needed and doesn't require you to pay any commission for the products you sell through the plugin. The only obvious downside of the software is that it can only accept PayPal. The Premium subscription of $14.95 a month slightly widens your options by accepting Stripe payments along with PayPal. On top of that, the paid version of the plugin offers a number of additional features, such as volume and density calculations, bulk and zip bulk uploads, and delayed price quotes.
Verge3D
Verge3D is an invaluable tool for content creation and e-commerce. This plugin gives an opportunity to create product configurators, 3D presentations and portfolios, online stores, browser games, and e-learning apps, and so much more. With the software's extensive toolset, the possibilities are almost endless.
Verge3D's seamless WordPress and WooCommerce integration allow you to show your 3D creations and products on your website for thousands of Internet users and potential customers. This plugin provides an interactive true 360 view of the models, as well as impressive zooming capabilities that allow to carefully inspect every digital model. Verge3D works perfectly on every device, from PCs and tablets to smartphones and TV sets. The software's integration with the most popular modeling suites makes it possible to export your 3D designs to the website straight from your CAD program.
Woo 3D Viewer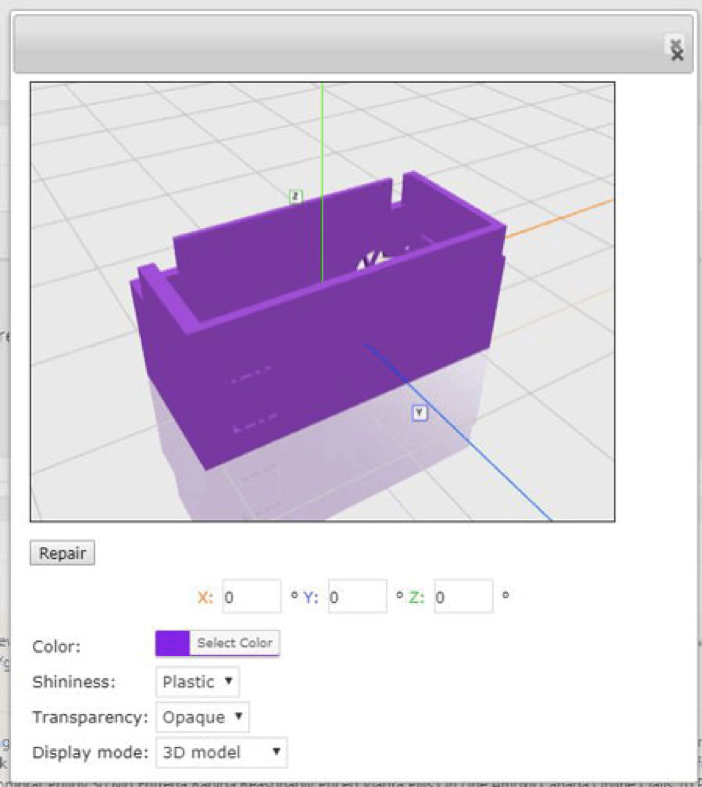 Woo 3D Viewer is a simple, intuitive 3D printing WooCommerce plugin that is rather easy to set up and put to work. The free version of the software provides a built in WooCommerce integration, which allows customers to arrange their payments right on your website. Woo 3D Viewer offers support for STL and OBJ file formats, which are most widely used in 3D modeling. Users of the plugin also appreciate its adjustable scene and model settings, which allow to change background color and shadows, as well as choose color, shininess and transparency of the model.
Woo 3D Viewer Pro provides model repair features and variable product support. In addition to that, Pro version makes it possible to protect your models from unwanted downloading by converting them to PNG, animated GIF or WEBM video format.
canvasio3D
Many people restrain from shopping on the web, since online shopping cannot give an opportunity to touch and feel the product they're considering to buy. That's why it is very important for owners of online stores to give their products the best representation possible. So if you want to showcase your products on your WordPress website in a visual and comprehensible way, you should give canvasio3D a try.
This free plugin is a simple, but still powerful software for viewing 3D models. With canvasio3D you can easily upload 3D models to your website in a wide range of file formats, OBJ, STL, DAE, and MTL to be exact. Visitors of your store can interact with the 3D models, and view them from every angle using the plugin's rotation and zooming features.