While an online community can do incredible things for your business, it also requires a significant amount of work. You'll need to commit to regularly interacting with your audience and boosting engagement levels to ensure the right results. So, how do you engage your online community?
1. Create Engaging Content
Probably the most important step in engaging your online community is creating the right content. There are countless ways to produce content for a community today, from posting videos, photos, and Stories on Instagram, to sharing regular blog posts and news stories.
The key to success is making sure you focus on the three E's: Engagement, Education, and Entertainment. Let's dive a little deeper:
· Engagement: Engaging content convinces your audience to get involved with the conversation. It could ask questions, or provide interactive experiences, like posting polls on social media for your audience to take part in.
· Education: With education, you provide your customers with useful insights on topics they're interested in. The key to success here is finding out which questions your customers are asking most, and answering those queries as clearly as possible.
· Entertainment: Entertaining content focuses on connecting with your audience emotionally. This content is fun, exciting, thrilling, or just plain interesting.
@Innocent on Instagram keeps things engaging, entertaining, and educational with fun posts that highlight the brand's unique sense of humor and tone of voice:
2. Invest In Engagement Marketing
If you're focused on learning how to engage your online community, it might be a good idea to invest specifically in "Engagement Marketing." This is a specialized form of marketing that involves attracting people to your business through emotional connections.
As people grow less susceptible to traditional forms of marketing, one of the best ways to capture and connect with your audience is to build a relationship with them. Engagement marketing is a great way to do this. For instance, you could create an entire content campaign for your website based on answering questions your customers send to you through social media.
Alternatively, you could invest in engagement marketing with a growth service. An organic Instagram growth service generates engagement by automatically seeking out customers who are likely to have a vested interest in your brand, and "liking" their post.
This basically allows you to reach out to your audience, and pull them back to your Instagram profile, where they can fall in love with your unique content. The key to success with this form of marketing is organic growth. You'll want to ensure you're connecting with genuine people, so they can have a real impact on your bottom line.
3. Use User-Generated Content
User-generated content is one of the most powerful tools in any engagement marketing strategy. 60% of consumers believe UGC is the most authentic form of content marketing, meaning it can help to improve your credibility and reputation online.
For engagement purposes, UGC shows your audience insights into other people who have worked with your brand before and enjoyed your products or services. This not only acts as fantastic social proof, but it also encourages other people to share their feedback, too.
One of the best ways to curate user-generated content is with a branded hashtag. You can run a contest or competition asking people to share photos of them using your product with a branded hashtag, and then showcase the winners, and send out prizes.
You might even consider reaching out to specific brand ambassadors to help you with creating your user-generated content, as @Aerie does here: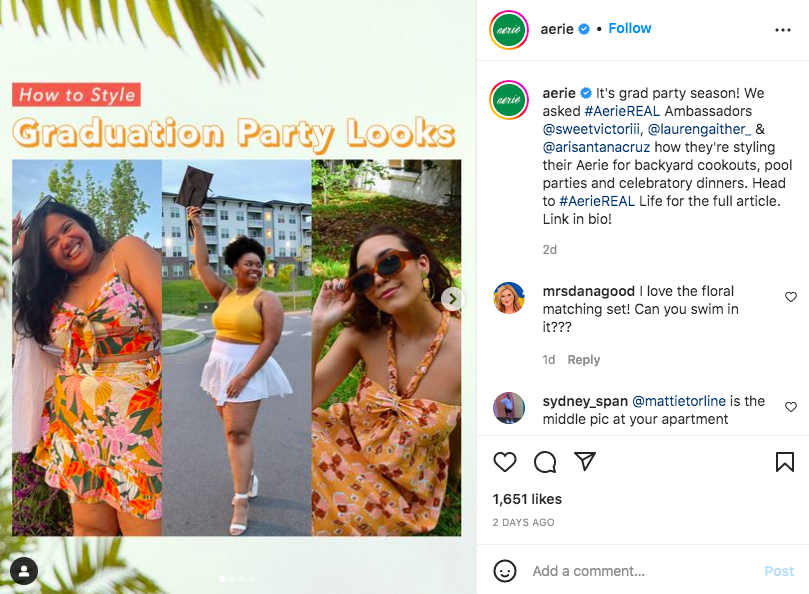 4. Collect Audience Insights
Customers love feeling as though they have an impact on your business and products. Everyone likes to have a voice when it comes to their favorite brands and collecting audience insights is an excellent way to show your audience you appreciate their feedback.
Tools like Instagram Stories make collecting feedback and insights much easier than you'd expect. You can ask your customers questions directly, like whether they'd like to see one of your products in a new color. Alternatively, you can use polls or emoji sliders to get a feel for your audience's preferences towards certain products.
Some of the best ways to collect insights from your audience include:
· Asking your audience what their favorite products are in a selection. For instance, you could create a Story showcasing your latest clothing collection and ask people to vote for a favorite.
· Creating a vote. You can have your customers vote on specific things, like which of your products should go on sale next, or which new color you should introduce.
· Emoji sliders: With Emoji sliders on Instagram, you can get a good idea of how positive customers feel about an upcoming product or campaign.
With around 500 million people logging into Instagram Stories on a daily basis, you're in a great position to get some useful information.
5. Go Live
Live content is becoming increasingly popular lately, as people look for ways to replicate face-to-face interactions in the digital world. Few things are more engaging for your audience than a live, behind-the-scenes look at your company and processes.
One of the best things about live content is how authentic it feels. Your customers know these videos haven't been edited, so they're getting a complete truth. This is important at a time when customers value transparency more than ever.
Live video is also a great way to answer common customer questions and provide insights rapidly. You can post about an upcoming live event on Facebook or Instagram and collect questions from consumers you can prepare to answer during the session.
Matthew McConaughey famously invited Dr. Anthony Fauci for a chat on Instagram Live, and the two also took questions from customers about the pandemic.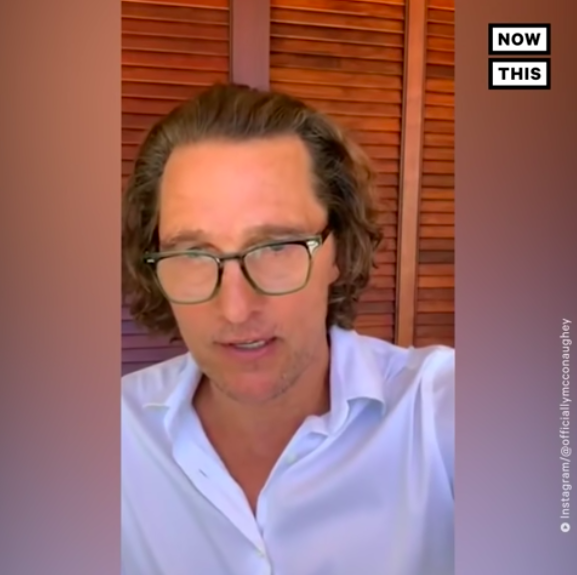 6. Shoutout Your Followers
We all like to feel special, and a shout-out from one of our favorite brands can be a great way to achieve that. When you want to engage your online community, directly responding to their questions and getting involved in conversations can be an excellent strategy.
You can give specific customers personalized shout-outs, thanking them for their support, or draw attention to a recent post they published on social media showcasing your products. Alternatively, you can shout out other brands (provided they're not competitors). This is an excellent way to start building relationships for future promotions.
One excellent way to use a shout-out is to answer a common question. For instance, Dunkin' occasionally posts screenshots of comments left by customers to their Instagram feed, with answers their entire community would be interested in.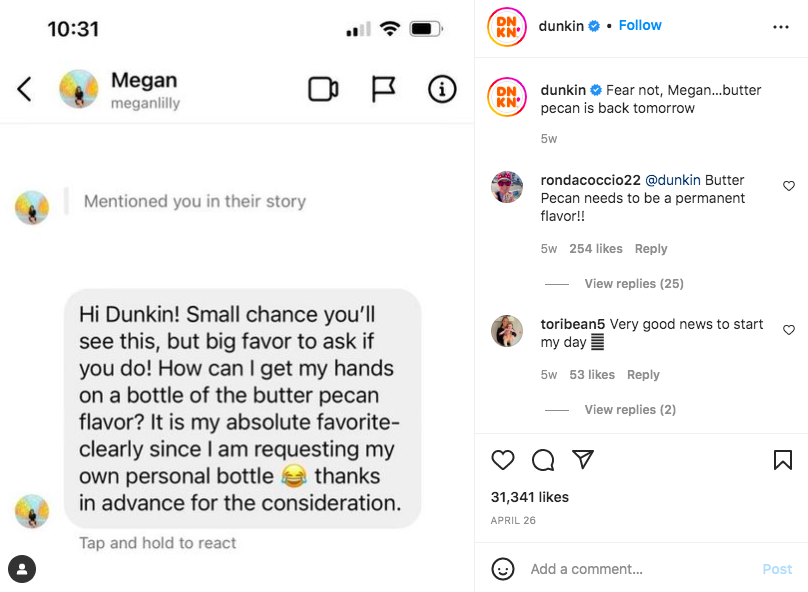 7. Give Back To Your Audience
Finally, few things are more effective at getting your audience engaged and excited than giving something away for free. Although a free giveaway can seem like an expensive concept at first, it's an excellent way to generate hype around your brand.
An Instagram giveaway can also be an excellent opportunity to generate brand reach and new sales opportunities. For instance, you can run a promotion where you ask customers to @mention their friends, like your company's page, and like a comment for a chance to win something.
If you really want to expand your audience, you could also look into partnering with another company to make the prize even bigger. This will help you to reach out to a new selection of potential followers, so you can take advantage of more hype.
If you don't have the option to give something away for free, even something simple like an exclusive discount can generate attention. For instance, @ColourpopCosmetics regularly posts sale information Instagram customers wouldn't see elsewhere.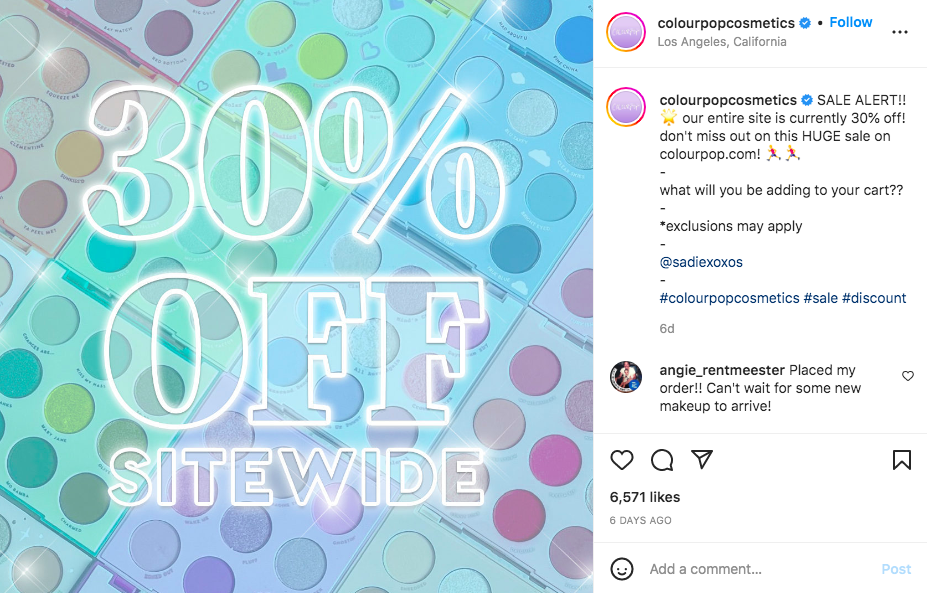 Engage Your Online Community
Learning how to engage your online community is an excellent way to pave the way for rapid business growth in today's world of digital connections and social media. Connecting with your community regularly will help you to cultivate a strong following of brand advocates and fans while improving your average order value from existing clients.