In a world increasingly centered around fitness and wellness, your online presence can be your gateway to a thriving fitness business. Whether you're running a gym, yoga studio, personal training business, or health blog, your website must reflect the energy and commitment you put into your work.
That's where WordPress Fitness Themes come into play, enhancing your web presence with designs tailored for the fitness industry. To aid you in your search for the perfect theme, we've curated a list of the 14 best WordPress Fitness Themes.
Selection criteria are based on design quality, flexibility, responsiveness, user reviews, and essential functionalities like e-commerce integration, SEO optimization, and user-friendly interfaces.
A powerhouse in the world of WordPress themes, Bridge brings a fresh, dynamic feel to fitness websites. The multipurpose theme boasts over 500 demos, including a plethora of fitness-focused options, providing customization freedom. Its key features include an integrated page builder, allowing for easy site customization without any coding knowledge.
It also offers a fully responsive design, meaning your website will look great on all devices. The theme has e-commerce capabilities, making it a great option for gyms and fitness centers offering online classes or selling fitness products. Plus, the user-friendly interface ensures an easy setup process.
DOWNLOAD / DEMO
KALLYAS is a versatile WordPress theme with multiple fitness-focused templates to choose from. Its cutting-edge visual builder allows you to customize your website to your exact specifications, ensuring your brand stands out. Besides the aesthetic appeal, KALLYAS stands out with its SEO-friendly design that boosts your visibility on search engines.
What's more, the theme comes WooCommerce-ready, allowing you to integrate an online store seamlessly into your site. Finally, KALLYAS's mobile-friendly design ensures your clients can access your content, products, or services on the go.
DOWNLOAD / DEMO
Regarded for its sleek design and premium features, Kalium is a top choice for fitness professionals seeking a stylish online presence. This theme offers pre-built demos tailored for fitness and health, streamlining the website-building process. A key strength of Kalium is its compatibility with both Elementor and WPBakery page builders, offering flexible customization options.
Additionally, it's bundled with Revolution Slider and LayerSlider plugins, allowing for eye-catching visual displays. As an SEO-optimized and responsive theme, Kalium ensures that your fitness website can reach a wider audience and provide an optimal browsing experience on any device.
DOWNLOAD / DEMO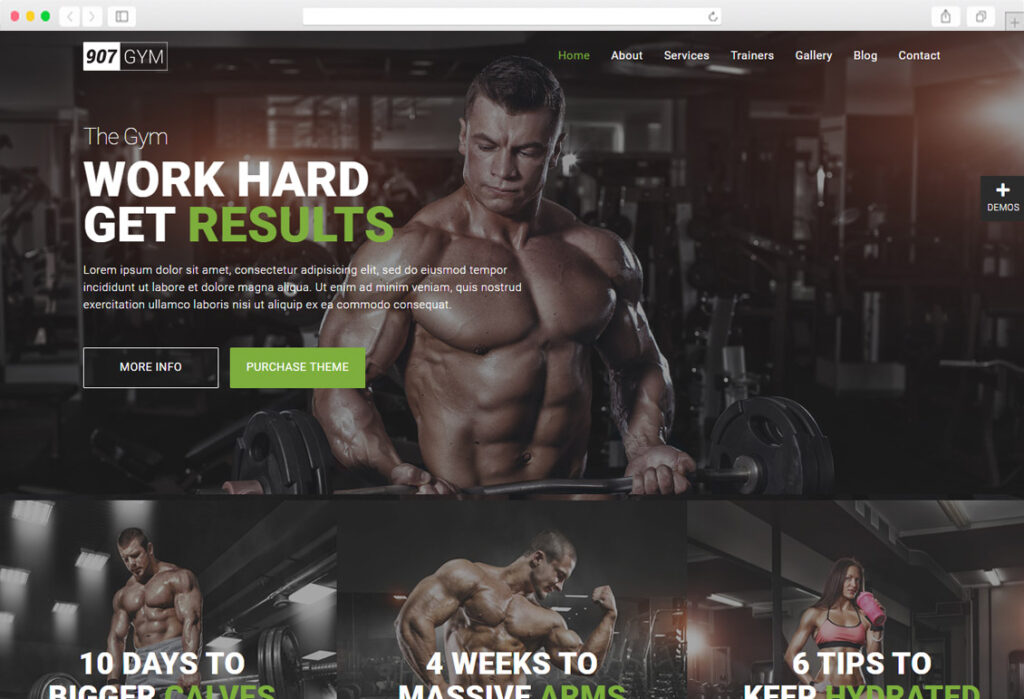 907 is a one-page WordPress theme with outstanding flexibility, making it suitable for a range of fitness businesses. Its unique selling point lies in its parallax & video backgrounds, which adds a dynamic touch to your website. Offering pre-built demos tailored to fitness, gym, and personal trainers, it eliminates the tedious process of building a site from scratch.
The theme is also compatible with the WooCommerce plugin for those looking to sell fitness products or services. Its responsive design and SEO-friendly coding ensure your website performs optimally on all devices and ranks well on search engines.
DOWNLOAD / DEMO
The GymBase theme is specifically designed with gyms and fitness centers in mind. Its minimalist design puts your content at the forefront, allowing your services and products to shine. GymBase comes with built-in timetable functionality, making it a breeze for your clients to check class schedules and sign up. The theme also integrates well with WooCommerce, so you can easily set up an online shop for fitness gear or digital products like workout plans.
Moreover, GymBase is fully responsive, ensuring your site looks great and operates smoothly across all devices. It's also built with SEO best practices in mind, helping to boost your website's visibility on search engines. The theme includes Visual Composer for drag-and-drop page building, giving you total control over your site's layout without needing any coding skills. GymBase offers simplicity and functionality rolled into one theme.
DOWNLOAD / DEMO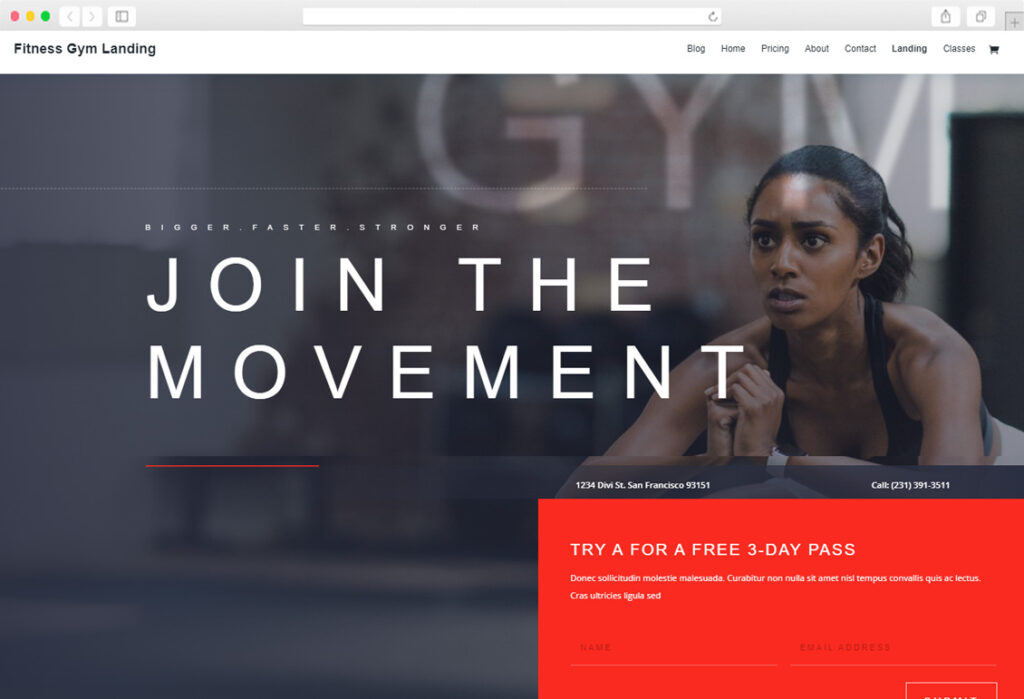 Divi isn't a fitness-specific theme, but its incredible flexibility and customization options make it a great choice for any type of fitness website. With Divi, you get access to a powerful page builder, allowing you to create stunning layouts without writing a single line of code. The theme boasts numerous pre-made templates, including some designed for fitness and wellness businesses.
Divi also comes with split testing and conversion rate optimization features, so you can optimize your site to attract and retain clients. The theme is mobile-responsive and SEO-friendly, ensuring a strong online presence. Its seamless integration with WooCommerce means you can sell anything from gym memberships to fitness gear directly from your site. In a nutshell, Divi offers limitless possibilities for your fitness site.
DOWNLOAD / DEMO
Health Coach is a WordPress theme designed specifically for personal trainers, nutritionists, and health coaches. It offers a professional and modern design that is sure to impress potential clients. With its integrated appointment booking system, clients can easily schedule sessions right from your website. Its service showcase feature allows you to display your offerings in a clear and appealing manner.
In addition to its feature-rich design, Health Coach is optimized for search engines, helping your website rank higher in search results. The theme is fully responsive and retina ready, ensuring it looks and performs well on any device. Whether you're selling digital products or in-person training services, the theme's WooCommerce integration will come in handy. The Health Coach theme is a comprehensive solution for any health coaching business.
DOWNLOAD / DEMO
The Ark is a multipurpose WordPress theme with a stunning design and an array of features. It offers pre-designed templates for fitness websites, simplifying the site-building process. Its Fresh Builder, one of the fastest design interfaces in the market, allows for extensive customization with no coding knowledge required.
One of the standout features of The Ark is its Fresh Grid system, which allows for creating unique, visually appealing layouts. It's also SEO-friendly and responsive, making sure your fitness site reaches the right audience. The theme integrates smoothly with WooCommerce for easy online store setup. The Ark provides a comprehensive platform to build an engaging, effective fitness website
DOWNLOAD / DEMO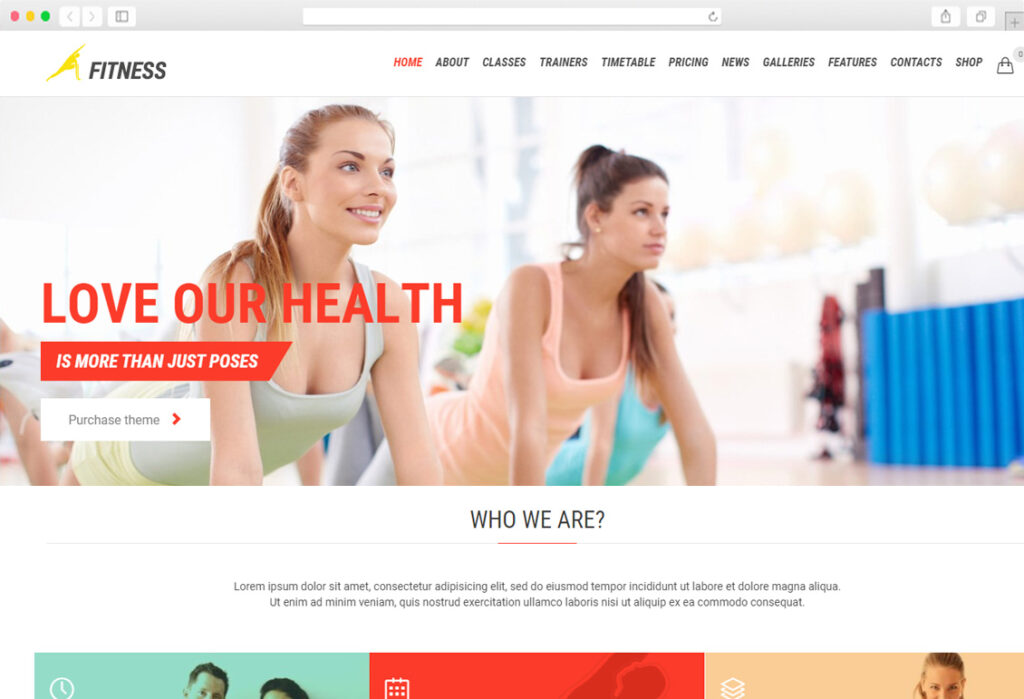 The Gym – Fitness theme is a specialized WordPress theme built specifically for gyms, personal trainers, and fitness enthusiasts. With a clean, professional design, the theme lets you showcase your services, facilities, trainers, and client testimonials with style. It includes features such as a timetable for workout schedules, a BMI calculator, and a versatile class description module.
Moreover, Gym – Fitness is fully responsive and SEO optimized, ensuring excellent performance across all devices and good search engine rankings. For added customization, it comes with Visual Composer, allowing you to create unique layouts with a simple drag and drop system. E-commerce integration is a breeze, thanks to the theme's compatibility with WooCommerce. Gym – Fitness combines function and form to create a strong online presence for your fitness business.
DOWNLOAD / DEMO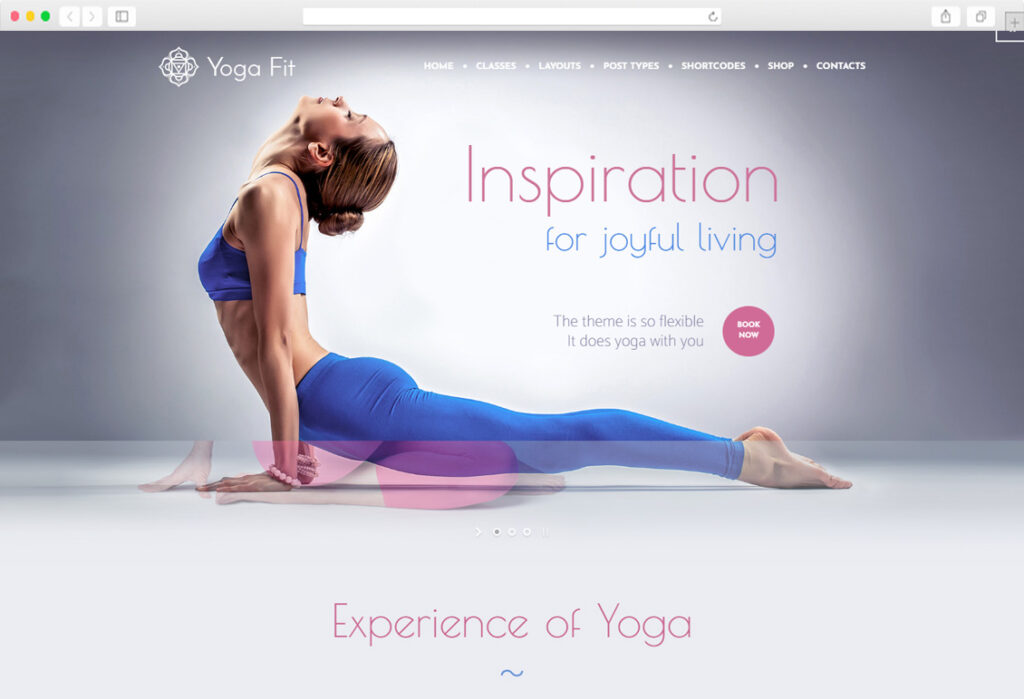 Yoga Fit is a theme crafted specifically for yoga studios, fitness centers, and other health-related establishments. It comes with a built-in events calendar, making it easy to schedule and display yoga classes or other fitness events. Its clean, calming design helps create a relaxing atmosphere reflective of a yoga studio's ambiance.
Yoga Fit is fully responsive, ensuring your website will look fantastic on any device. It's also SEO optimized, so you can rest assured your site will perform well in search engine rankings. The theme integrates with WooCommerce, making it possible to sell yoga gear, digital products, or tickets to yoga classes. With Yoga Fit, you can create an engaging, user-friendly yoga website with ease.
DOWNLOAD / DEMO
Athlete Fitness is a robust WordPress theme designed specifically for fitness centers and gyms. One of its standout features is the unique, built-in fitness program system, which allows users to register for fitness programs directly from your website. The theme also includes a dedicated module for trainers, showcasing their profiles and specialty areas.
The Athlete Fitness theme is fully responsive, providing an excellent viewing experience across all devices. It's SEO-friendly, assisting your site in achieving a higher ranking in search engine results. With WooCommerce integration, you can sell fitness products and services with ease. Athlete Fitness is a dynamic, user-friendly theme perfect for any fitness-oriented website.
DOWNLOAD / DEMO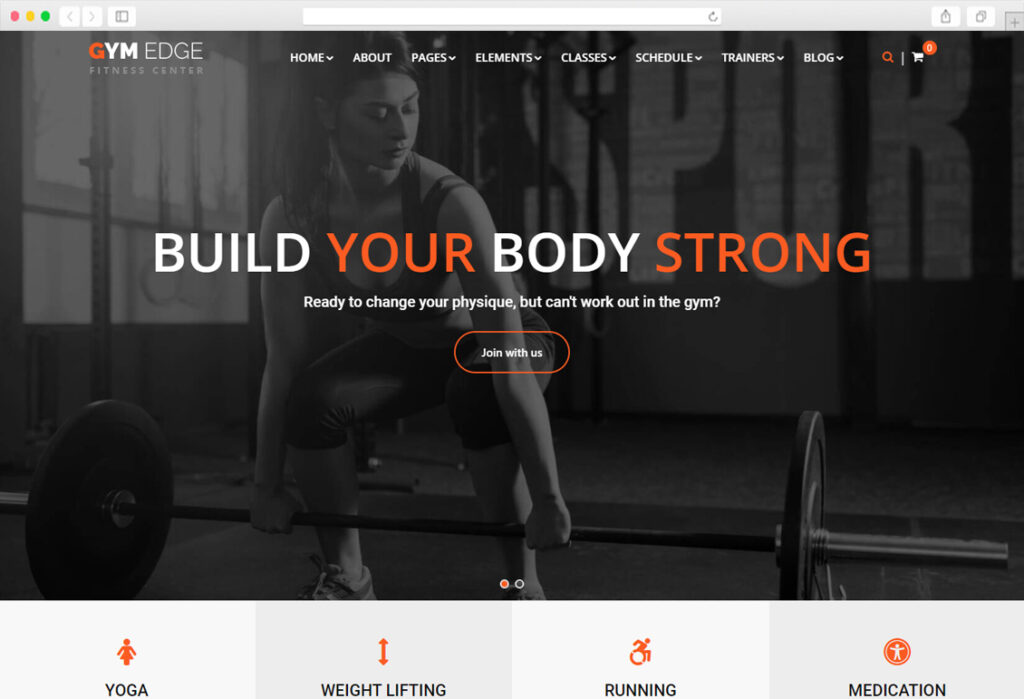 Gym Edge is a WordPress theme purpose-built for fitness centers, gyms, and personal trainers. Its design is modern and eye-catching, with various homepages and inner pages to choose from. One of its key features is a class schedule and trainer profile module, helping you effectively manage and display fitness classes and trainer information.
Gym Edge also excels in terms of performance, with a fully responsive layout and an SEO-friendly design. Its compatibility with Elementor and WPBakery page builders offers ample customization possibilities, while its seamless integration with WooCommerce means you can easily set up an online store. Gym Edge delivers everything you need to establish a strong, engaging online presence for your fitness business.
DOWNLOAD / DEMO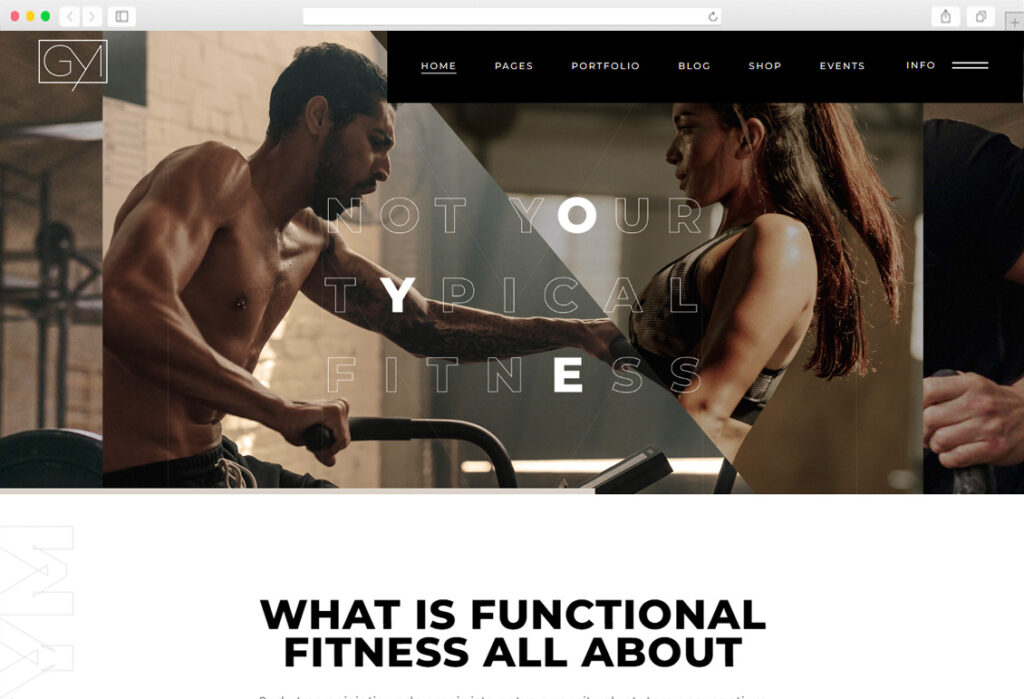 Powerlift is a robust WordPress theme built exclusively for fitness, gym, and weightlifting businesses. With its sporty and modern design, Powerlift can help you create an inspiring online presence. It includes fitness-specific features like timetables, BMI calculator, a nutrition tips module, and a versatile showcase for your training packages or classes.
Beyond its striking design, Powerlift provides a fully responsive and retina-ready layout, ensuring your website looks sharp on all devices. SEO optimization is a given with this theme, improving your chances of higher search engine rankings. Additionally, Powerlift integrates smoothly with WooCommerce, allowing you to sell fitness merchandise or online workout programs directly from your site. With Powerlift, creating a compelling, functional fitness website is a straightforward process.
DOWNLOAD / DEMO
Asana – Yoga is a clean and flat WordPress theme that's perfect for yoga studios, fitness clubs, and wellness centers. Its minimalistic design creates a peaceful and relaxing atmosphere on your website, in line with the principles of yoga. The theme includes class and event schedules, a booking form, and even a unique feature for posting yoga poses or workouts.
Asana – Yoga is fully responsive and retina-ready, guaranteeing an excellent user experience across all devices. It's SEO-optimized, helping your website perform well in search engine rankings. Additionally, it supports WooCommerce integration, offering you the capability to run an online store effortlessly. Asana – Yoga provides a balance of style, usability, and customization, making it a top choice for yoga and wellness websites.
DOWNLOAD / DEMO
In conclusion, there's a WordPress Fitness Theme out there to suit every type of fitness business or project. Whether you're a yoga studio, a gym, a personal trainer, or a health coach, the perfect theme is waiting to take your online presence to the next level. Remember, a well-designed, user-friendly, and SEO-optimized website can be a game-changer in expanding your client base and growing your fitness business.