In today's digital age, the appearance and functionality of a website can make or break a visitor's impression. Whether you're a professional blogger, a company representative, or a hobbyist, the choice of a WordPress theme plays an indispensable role in defining your site's success.
With thousands of WordPress Blog Themes available, it becomes paramount to select one that aligns with your vision, purpose, and brand. To make this decision smoother, we've curated a list based on design quality, flexibility, responsiveness, and genuine user reviews. Dive in to discover themes that resonate with style, functionality, and industry standards.
Best WordPress Blog Themes
Ranked as one of the most popular WordPress themes, Avada is often termed the 'Swiss Army Knife' of WordPress themes. Its versatility lies in the Fusion builder, offering an intuitive visual design process. Perfect for both beginners and experienced users, Avada's drag-and-drop feature ensures that crafting your ideal website becomes an enjoyable task.
From pre-built websites to countless customization options, Avada offers e-commerce integration making it ideal for online store set-ups. With SEO optimization at its core, this theme ensures that your website ranks well on search engines. Imagine an artist's blog integrated with a store selling digital prints or a chef's blog linked with a merchandise store; Avada can make it happen effortlessly.
DOWNLOAD / DEMO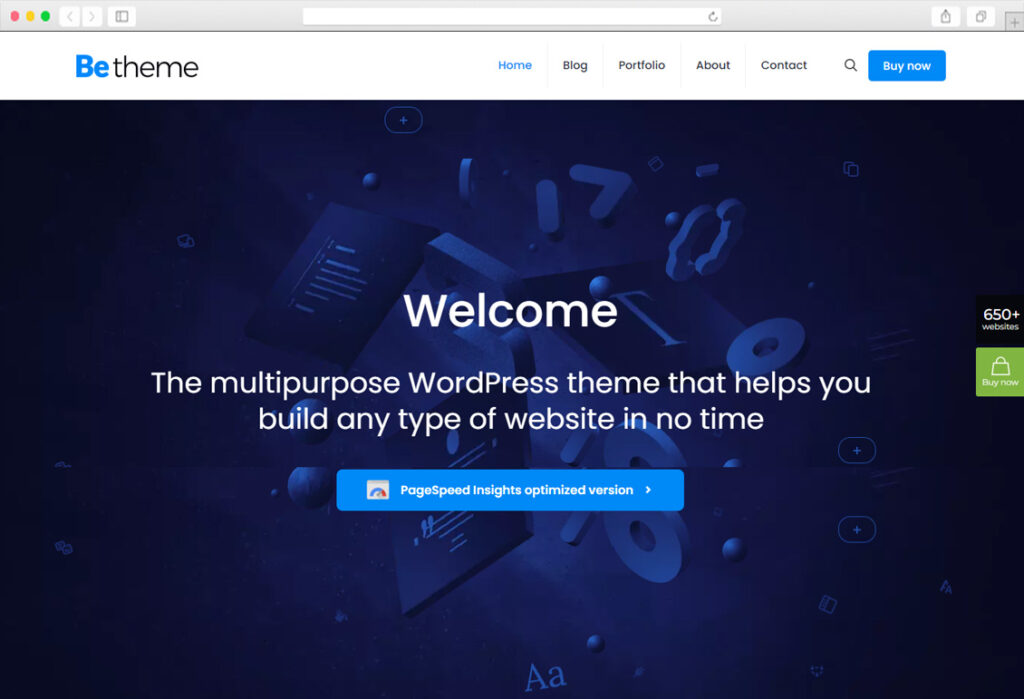 BeTheme is less about being a theme and more about being a universe of possibilities. With over 500 ready-to-use websites, this theme offers a multitude of design options catering to almost every niche imaginable.
The Muffin Builder, present in BeTheme, ensures that you don't have to code a single line to achieve a sophisticated look. Responsiveness is a given, but its additional features like parallax effects and video backgrounds give life to content-rich blogs. For instance, a travel blogger can utilize the video background feature to showcase mesmerizing sceneries or cityscapes, ensuring readers are not just informed but visually engaged.
DOWNLOAD / DEMO
X | The Theme is touted as one of the fastest-selling WordPress Blog Themes on ThemeForest, and for good reasons. Its claim to fame is the inclusion of multiple unique designs inside one powerful theme, catering to diverse requirements.
The theme operates through 'Stacks', each offering a unique design and layout. From the simplicity of the Integrity Stack for minimalist bloggers to the vibrant Renew Stack for creative individuals, there's something for everyone. Moreover, its e-commerce readiness means you can have a blog alongside a shopping portal. Picture a beauty blogger providing makeup tutorials and simultaneously selling beauty products – X | The Theme offers such dynamic possibilities.
DOWNLOAD / DEMO
Bridge isn't just a theme; it's a declaration of style with its wide range of beautifully crafted demos. Whether you're aiming to start a personal blog, a magazine site, or an e-commerce store, Bridge seamlessly bridges the gap between sophistication and usability.
With the powerful QODE slider, it lets bloggers exhibit their content vibrantly. Couple that with the Visual Composer, and customization becomes a walk in the park. For instance, a fashion blogger can take advantage of the smooth slider transitions to feature trending outfits, creating an engaging atmosphere that keeps visitors scrolling.
DOWNLOAD / DEMO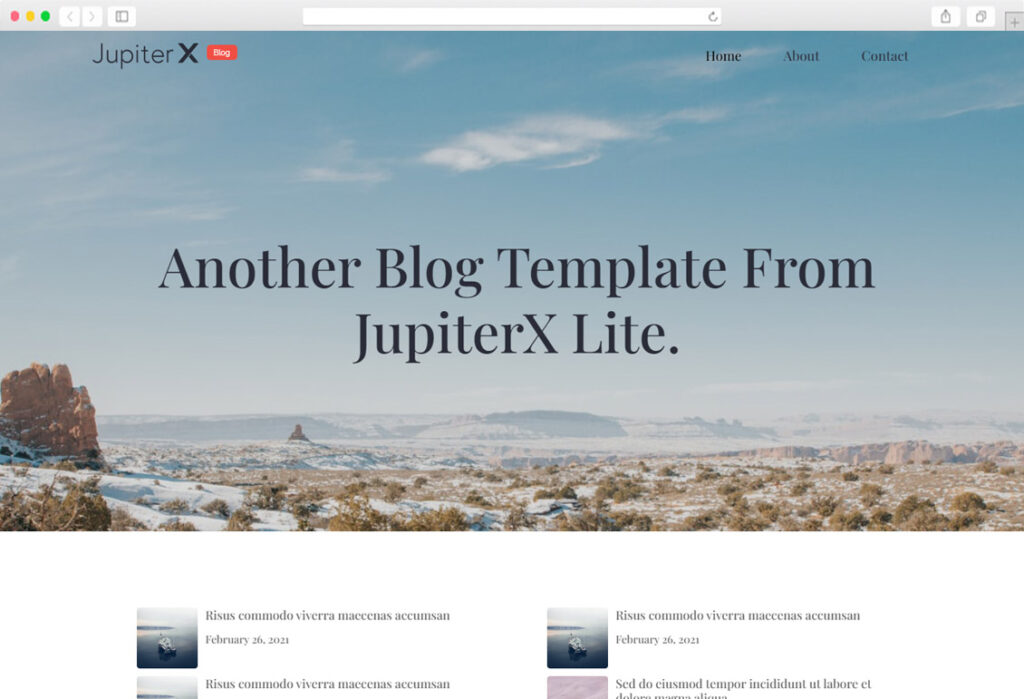 JupiterX is an embodiment of flexibility. Redefining lightweight and speedy performance, it ensures that your blog runs smoothly while looking top-notch.
Integrated with the Elementor page builder, it offers an extensive set of elements to craft the perfect site. Customizability doesn't end there; with the WooCommerce plugin, businesses can easily set up an online store. Think of a fitness influencer sharing workout routines and selling fitness gear simultaneously. With JupiterX, the integration is seamless and efficient.
DOWNLOAD / DEMO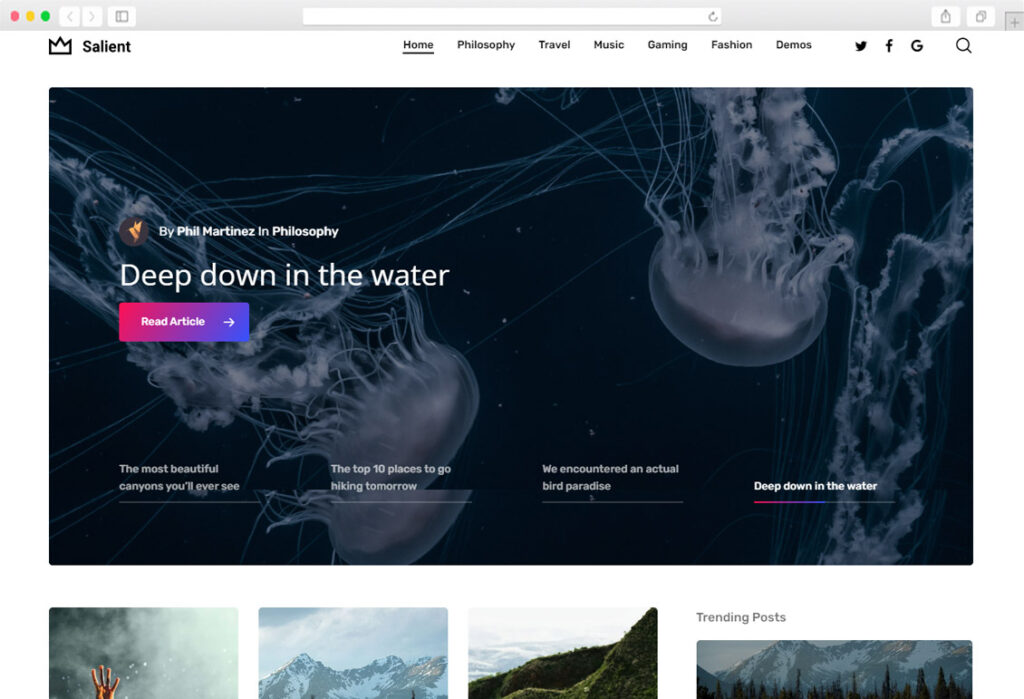 When it comes to aesthetics, Salient stands out. Known for its ultra-refined designs, it promises to deliver a visual experience that's nothing short of cinematic.
Salient's adaptive image technology ensures that your images look crisp and load fast. The Nectar Fullscreen Rows allow for a captivating user experience, making it perfect for visual storytellers. A photographer, for example, could use Salient to immerse viewers in their portfolio, using fullscreen visuals to make every click a journey into their world.
DOWNLOAD / DEMO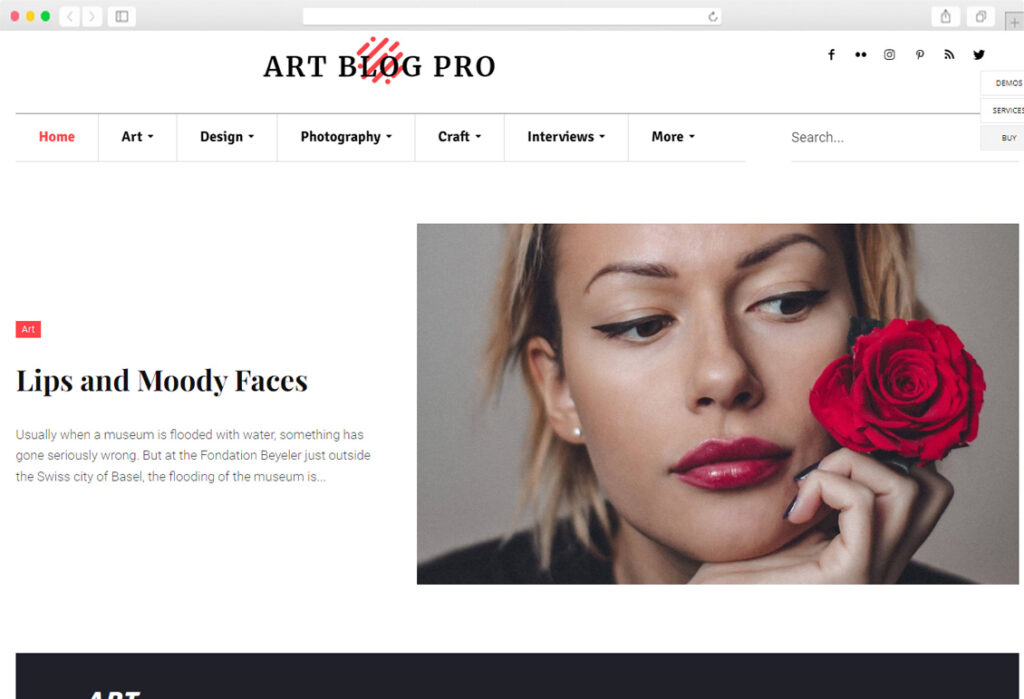 Newspaper theme, as the name suggests, is the gold standard for bloggers who aim to publish frequent, content-heavy posts. It's built to handle articles, blog posts, videos, and more with unparalleled efficiency.
With over 50 one-click demos and an integrated page builder (tagDiv Composer), designing your news portal becomes hassle-free. Its smart content blocks adapt and display your posts elegantly, making it suitable for news agencies, magazines, or individual bloggers. Imagine running a regional news portal with categories ranging from politics to entertainment, all structured immaculately with Newspaper's grid system.
DOWNLOAD / DEMO
Uncode is where creativity meets precision. This pixel-perfect theme is designed with immaculate attention to detail, ensuring your blog stands out in the crowded digital landscape.
Its adaptive image system ensures your pictures retain clarity regardless of the device. With the WPBakery Page Builder, crafting layouts is a breeze. Uncode's flexibility can benefit a variety of bloggers. For instance, an architect can curate a portfolio showcasing their projects in high resolution, leveraging Uncode's media gallery to present visuals in captivating layouts.
DOWNLOAD / DEMO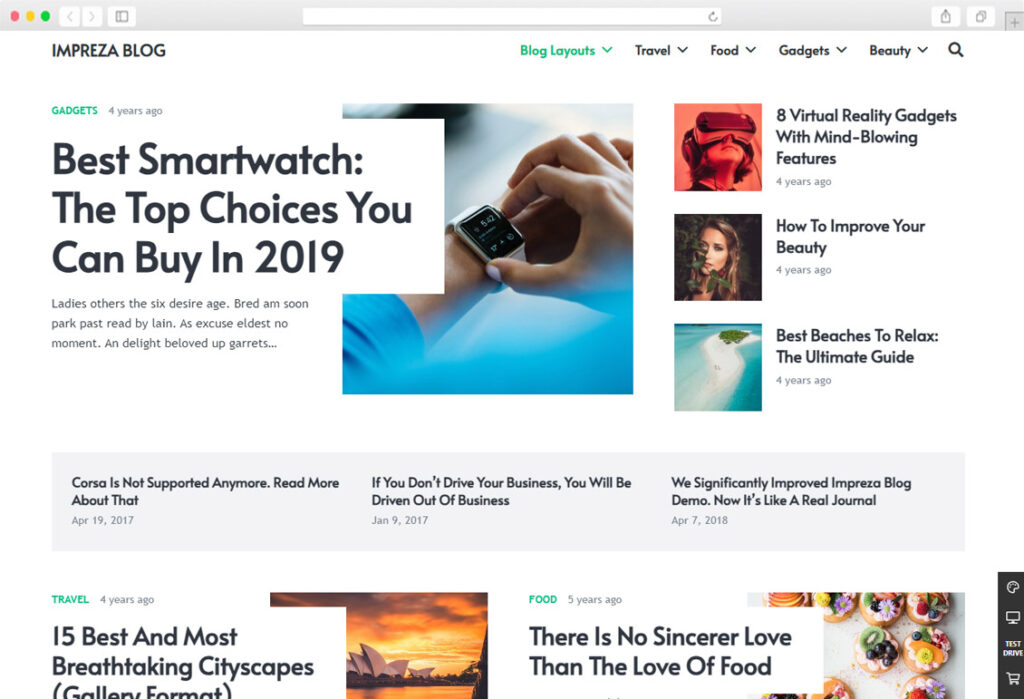 Impreza stands tall with its commitment to versatility. Its claim to fame lies in the immaculate balance between aesthetics and efficiency. Whether you're aiming for a professional look or a creative twist, Impreza caters to a spectrum of design preferences.
With over 220+ demo pages and the integration of WPBakery Page Builder, customization is a straightforward process. The theme offers advanced grid layouts, allowing bloggers to present their content uniquely. For instance, a book reviewer could leverage Impreza to showcase book covers in a grid format, enticing readers to explore reviews further.
DOWNLOAD / DEMO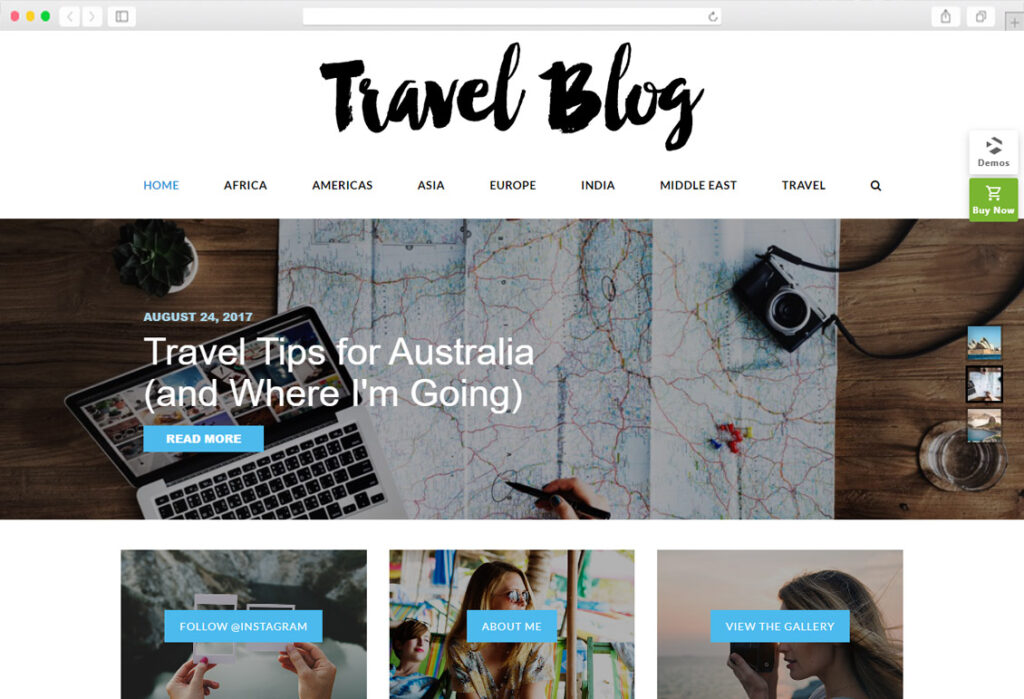 Total lives up to its name. It's a complete package, offering a plethora of features wrapped in a sleek design. With Total, the aim isn't just to host content but to create immersive experiences.
Total comes with the WPBakery Drag & Drop Page Builder and over 40+ pre-designed demos. Its compatibility with the WooCommerce plugin makes it an excellent choice for integrating e-commerce. A craft blogger, for instance, can use Total to share DIY techniques while also selling craft kits, offering readers an interactive blend of content and commerce.
DOWNLOAD / DEMO
KALLYAS is an ambitious theme, striving for perfection in every aspect. Designed to be a visual treat, it promises a user experience that is both intuitive and delightful.
Boasting the Zion Builder, KALLYAS ensures that users craft pages with precision. The theme offers multiple homepage designs and sliders, making it apt for a diverse range of blogs. Consider a digital marketer sharing industry insights; KALLYAS can elegantly present articles, infographics, and video content, ensuring every post garners attention.
DOWNLOAD / DEMO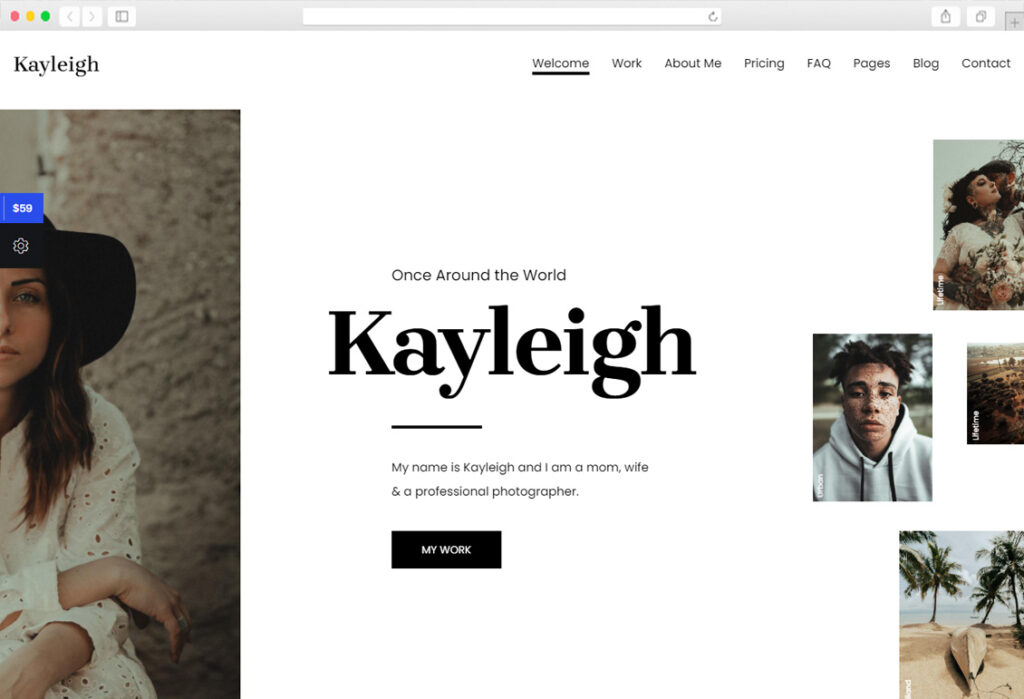 Brooklyn offers an urban twist to digital design. Modern, chic, and highly customizable, it caters to those looking for a fresh take on website design.
With over 40 complete pre-built websites, users can kickstart their projects efficiently. Its powerful admin panel ensures customization is hassle-free. Brooklyn is perfect for bloggers who want to reflect a metropolitan vibe. For a lifestyle blogger based in a bustling city, Brooklyn's designs can mirror the city's pulse, making every post resonate with urban life's rhythm.
DOWNLOAD / DEMO
Ronneby is an amalgamation of functionality and high-performance. Renowned for its meticulous design, it sets a high standard for premium WordPress themes.
Ronneby's strength lies in its collection of plugins and modules. With extended blog features, bloggers can present content innovatively. The theme's integration with WooCommerce also means e-commerce readiness. A gourmet chef, for example, could use Ronneby to blog about culinary delights while also setting up a store selling unique kitchenware or curated gourmet products.
DOWNLOAD / DEMO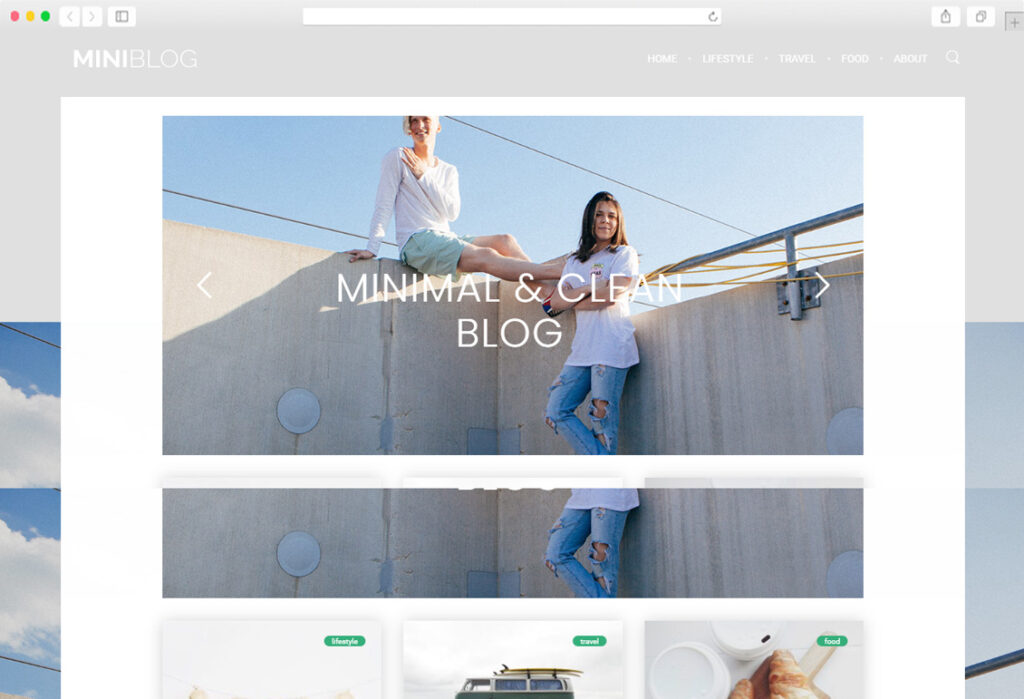 Massive Dynamic lives up to its name, offering robust features without compromising on aesthetics. It's a powerhouse theme that ensures websites are dynamic in both design and functionality.
The theme's live website builder ensures real-time customization, making design tweaks feel instantaneous. With its floating navigation, responsive design, and parallax sections, the user experience is elevated. Massive Dynamic is ideal for tech bloggers, allowing them to showcase the latest gadgets and software with zest, using interactive elements to keep readers engaged.
DOWNLOAD / DEMO
Jannah takes a fresh approach to design, offering features that are tailored for modern content marketing needs. Built with performance in mind, this theme is perfect for those looking to provide a rich user experience.
Jannah boasts of features like the 'Minified Version for JS' which improves website performance, and an in-built GIF integration, perfect for bloggers aiming to offer interactive content. It also supports Web Push Notifications, keeping subscribers updated with the latest posts. A news portal can particularly benefit from Jannah's modern layout, presenting breaking news with rich media, and ensuring readers stay hooked.
DOWNLOAD / DEMO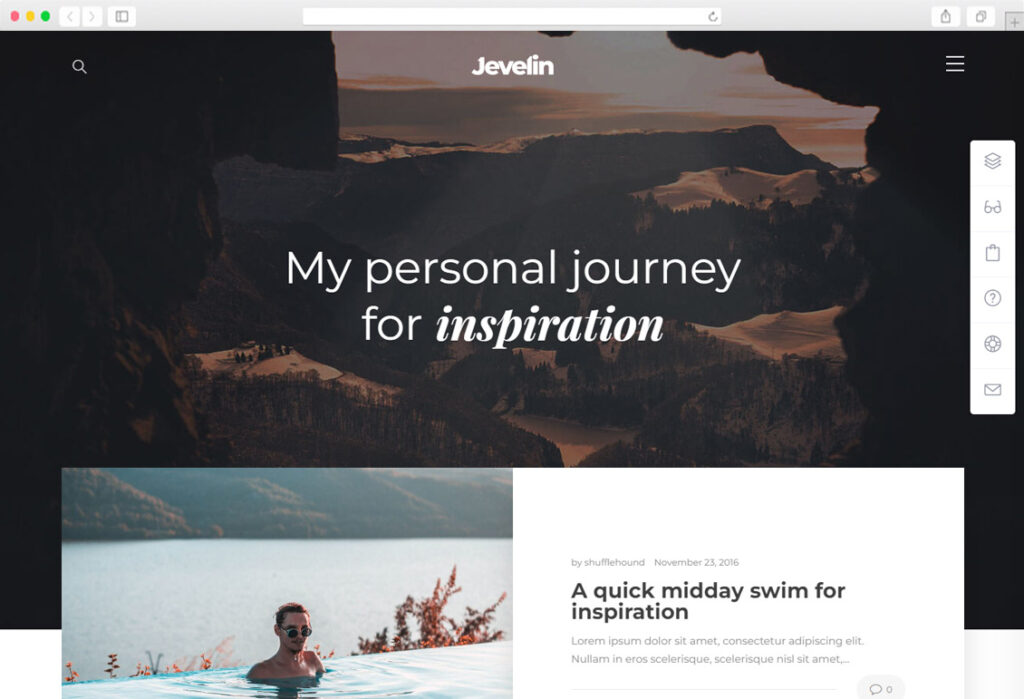 Jevelin is more than just a WordPress theme; it's a comprehensive toolkit designed to create a wide variety of websites. With its multipurpose approach, it offers solutions from personal blogs to commercial enterprises.
With the Unyson framework at its core, Jevelin offers a drag-and-drop page builder. Mobile optimization ensures it looks stunning on all devices. Jevelin's WooCommerce plugin support also makes it ideal for bloggers looking to sell products. A fitness trainer, for example, could share workout tips while also offering personal training sessions or fitness merchandise.
DOWNLOAD / DEMO
Buzz stands out for its minimalist and clean design. For those looking to let their content shine without any distractions, Buzz serves as the perfect canvas.
The theme comes with customizable fonts, colors, and layouts, offering subtle design tweaks to suit personal preferences. Its fast-loading capability ensures readers stay engaged without any lags. This theme is perfect for writers and poets. The uncluttered layout allows words to take center stage, providing readers an uninterrupted literary experience.
DOWNLOAD / DEMO
Pofo is designed for the creative at heart. With its artistic layouts and design-centric approach, it's the go-to theme for individuals and agencies in the creative domain.
Pofo offers over 200 design elements, making it a treasure trove for customization enthusiasts. Its compatibility with the WP Bakery Page Builder ensures ease of design. A freelance graphic designer or a photography studio can leverage Pofo to showcase portfolios, making every project a visual masterpiece for visitors.
DOWNLOAD / DEMO
As the name suggests, Writing is a theme tailor-made for passionate writers. It offers a clutter-free environment, ensuring that content remains the hero.
With its minimalistic design, Writing offers readability that's second to none. Its SEO optimization ensures that content reaches the intended audience. For essayists, novelists, or any form of long-form content creators, Writing provides a serene space where words flow smoothly, captivating the reader's undivided attention.
DOWNLOAD / DEMO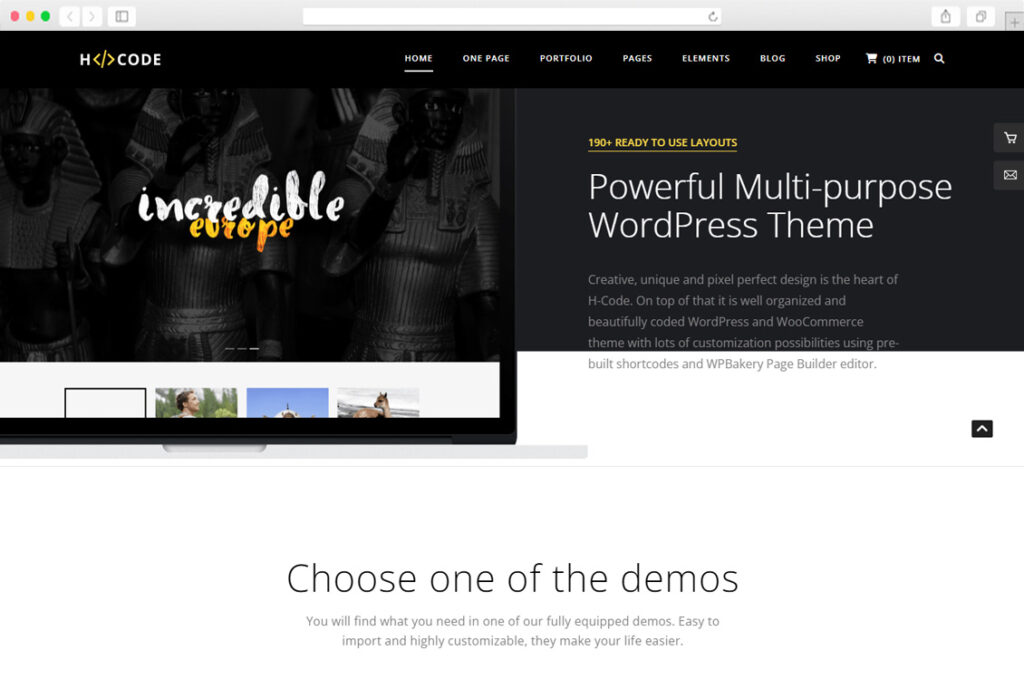 H-Code is a versatile theme offering a blend of professionalism with a dash of creativity. Built for diverse needs, it caters to both corporate and individual bloggers.
With over 58 demo concepts, H-Code offers a world of design possibilities. Its integration with WooCommerce makes e-commerce setups a breeze. Consider a tech startup sharing industry insights and updates; H-Code's sleek design can perfectly complement such content, making every post look like a meticulously crafted piece.
DOWNLOAD / DEMO
Lets Blog WordPress is a streamlined theme that encapsulates the essence of blogging. Its clean and minimal design ensures that the content remains the primary focus, providing a clutter-free environment for avid readers.
The theme offers 10 distinct blog layouts, catering to varied presentation styles. With retina-ready displays and off-canvas navigation, it's optimized for both visual appeal and user experience. Its easy-to-use admin panel simplifies customization. This theme is perfect for traditional bloggers, such as travel enthusiasts or personal diary writers, ensuring that their narratives take center stage.
DOWNLOAD / DEMO
Divi is not just a WordPress theme; it's a revolutionary website-building platform. Known for its versatility and robustness, Divi provides endless possibilities, catering to both novices and seasoned web designers.

At the heart of Divi is its visual drag-and-drop Divi Builder, which allows for real-time design and previews. With over 800 pre-made designs and 100+ full website packs, the possibilities are boundless. It also offers split testing and powerful conversion insights, making it ideal for businesses. For instance, an e-commerce store can use Divi to not only showcase products but also to analyze which layout or presentation garners the most customer interaction, ensuring strategic content placement.
DOWNLOAD / DEMO
With that, we've covered the 22 best WordPress Blog Themes that can cater to a wide variety of blogging needs. From minimalistic designs to e-commerce integrations, the digital realm offers a plethora of options to elevate your blogging game. Choosing the right theme is the first step towards crafting a captivating online presence.