The digital realm is a cornucopia of inspiration for culinary enthusiasts and professional chefs alike, offering food blogs, tutorials, recipes, and other gastronomic delights. At the heart of these engaging platforms lie Food Blog WordPress Themes that make your content shine, enticing visitors to explore further.
The right WordPress theme is like a virtual storefront – it creates that crucial first impression, sets the tone for your brand, and most importantly, it can make the difference between someone clicking away or staying to devour your content.
Choosing a theme for your food blog is not just about aesthetic appeal. It's also about functionality, user experience, and compatibility with various devices. In curating this list of the 14 best Food Blog WordPress Themes, we have considered factors like design quality, flexibility, responsiveness, and user reviews.
The Best Food Blog WordPress Themes
From themes that offer a robust selection of pre-built templates to those with excellent e-commerce integration for selling your products or services, this comprehensive guide presents a range of options to suit your needs.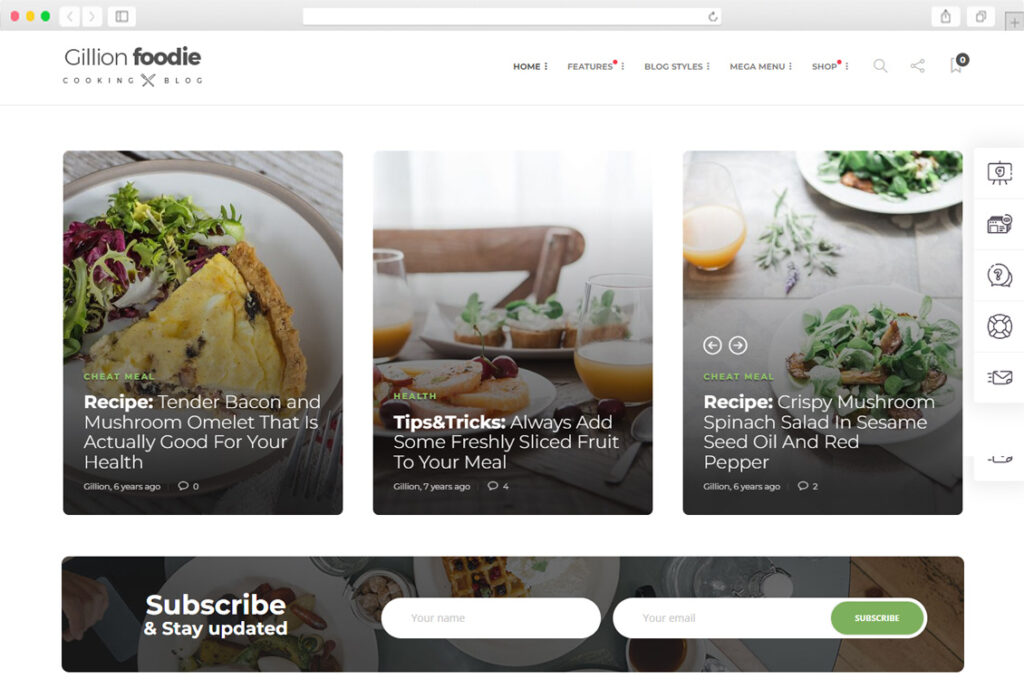 Gillion is a multi-concept blog and magazine theme that is tailor-made for food bloggers. With a crisp, minimalistic design, it puts your food photographs front and center, creating a visual feast for your visitors. Key features of Gillion include the WPBakery drag-and-drop page builder, numerous customization options, and a one-click demo install.
In addition, its inbuilt social media integration helps you grow your online presence. For example, a food blogger might leverage this feature to showcase their Instagram posts directly on their blog, creating a seamless browsing experience for their followers.
DOWNLOAD / DEMO
MagPlus is a robust WordPress theme offering over 40 demo designs, including a dedicated layout for food blogs. Its versatility lies in its wide array of layout options and custom slider controls that allow you to create a website as unique as your culinary creations.
An integral feature of MagPlus is its seamless compatibility with the Gutenberg block builder, which enables users to construct compelling blog posts with relative ease. Furthermore, its AMP-ready design ensures your site loads quickly on mobile devices, providing a smooth user experience for your readers who are eager to access your latest recipes.
DOWNLOAD / DEMO
Soledad, one of the best-selling blog and magazine WordPress themes, offers an impressive array of more than 6000 demo homepages, some of which are specifically designed for food blogs. Its clean design and comprehensive typography options ensure that your content stands out.
One standout feature of Soledad is the 'live customizer,' which allows you to preview changes before they go live, ensuring your website always looks its best. Moreover, the theme supports WooCommerce, which is a crucial functionality for food bloggers who may want to sell their cookbooks, kitchen tools, or other products.
DOWNLOAD / DEMO
PenNews is a versatile theme that comes with a dedicated food demo, making it an excellent choice for food bloggers. Its strengths lie in its customizability and extensive compatibility with plugins like WPBakery page builder and Slider Revolution, allowing users to craft engaging, dynamic pages.
The theme's robust SEO optimization ensures your food blog ranks well in search results, increasing your visibility to potential followers. Additionally, PenNews' compatibility with the WooCommerce plugin offers food bloggers an easy way to integrate an online store into their site.
DOWNLOAD / DEMO
Jevelin is a multipurpose WordPress theme, highly customizable, and comes with a stunning food blog demo. A remarkable feature is its compatibility with the Elementor page builder, enabling you to design your website with a user-friendly drag-and-drop interface.
Jevelin offers a smooth, mobile-ready and responsive design. This ensures your food blog looks fantastic, no matter the device your followers use to access it. Moreover, its SEO optimization functionality helps you rank high on search engines, attracting more organic traffic to your delectable content.
DOWNLOAD / DEMO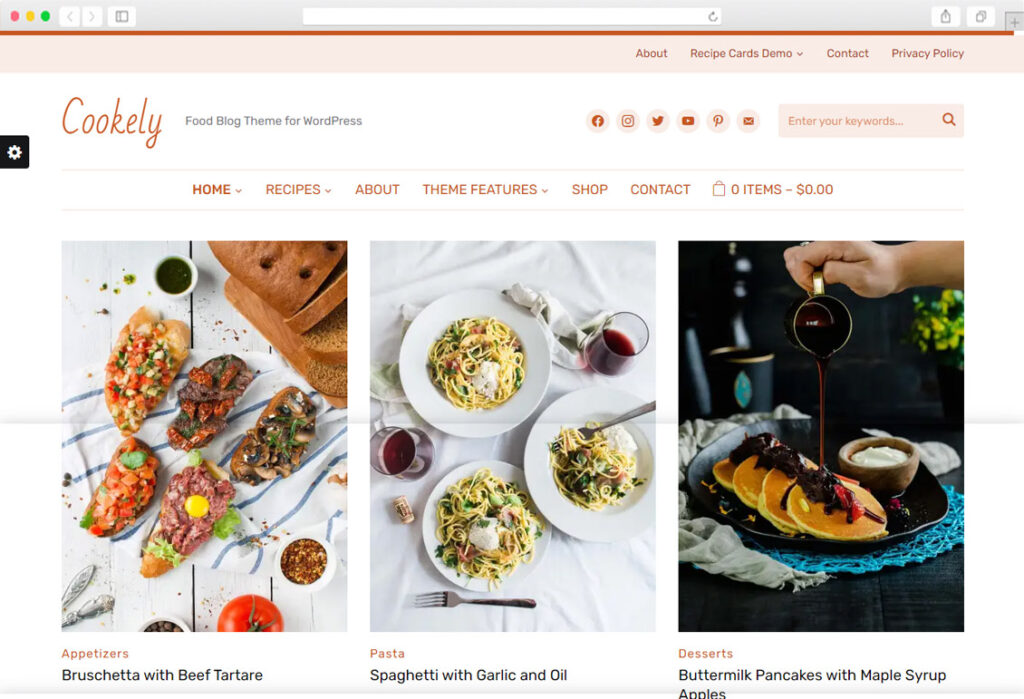 As the name suggests, Cookely is a WordPress theme crafted especially for food bloggers. Its striking layout highlights your best recipes, making your blog visually captivating. It features a unique, mobile-friendly recipe card plugin that enhances the user experience by making your recipes easy to follow.
With Cookely, you also have the flexibility to customize colors and typography to match your brand aesthetic. This theme also offers strategic areas for ad placement, making it easier for you to monetize your food blog effectively.
DOWNLOAD / DEMO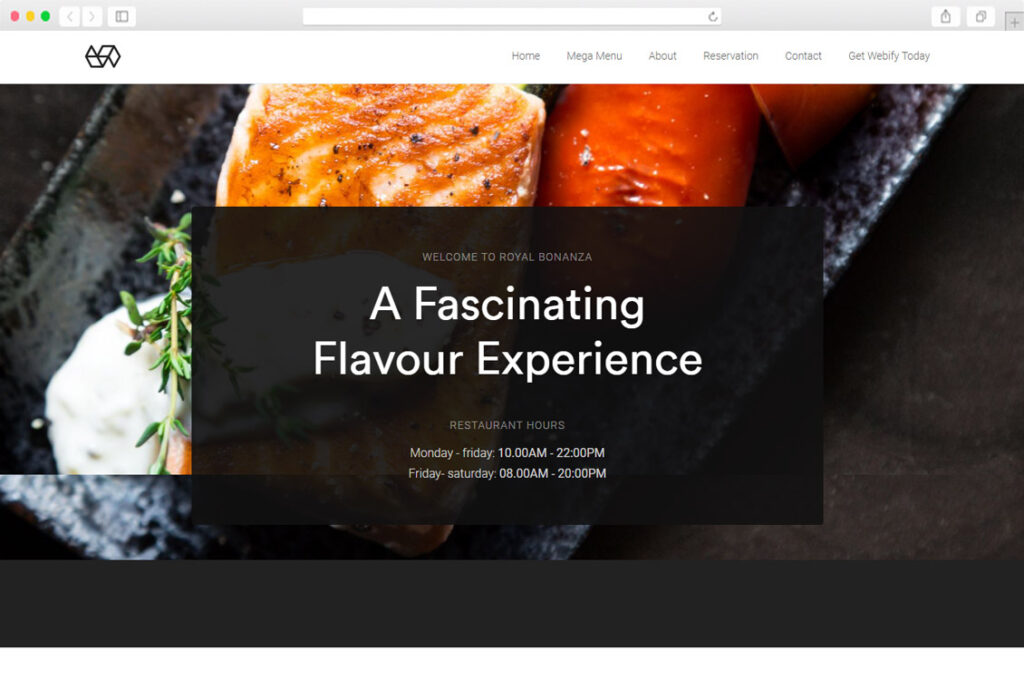 Webify is a flexible and robust WordPress theme with a stunning layout designed specifically for food blogs. It offers a wide range of customization options, including different header styles, unlimited sidebars, and a variety of footers.
Its main strength is the library of modular templates that you can mix and match to create a truly unique website. Additionally, Webify is compatible with WooCommerce, offering an excellent platform for food bloggers to sell merchandise or food products directly from their site.
DOWNLOAD / DEMO
Sway is a powerful, versatile WordPress theme perfect for creating sophisticated food blogs. With its myriad of pre-designed elements and layouts, you have all the tools you need to create an engaging, visually stunning blog.
Its compatibility with the Tatsu page builder allows for intuitive, drag-and-drop customization, making website building a breeze. Moreover, Sway is fully responsive and retina-ready, ensuring your high-quality food images look crisp and enticing on all devices.
DOWNLOAD / DEMO
Our exploration into the world of Food Blog WordPress Themes doesn't end here. Whether you're a seasoned chef, a home cook sharing family recipes, or a food enthusiast reviewing eateries, our list of WordPress themes will cater to your specific needs and help you present your content in the most engaging manner.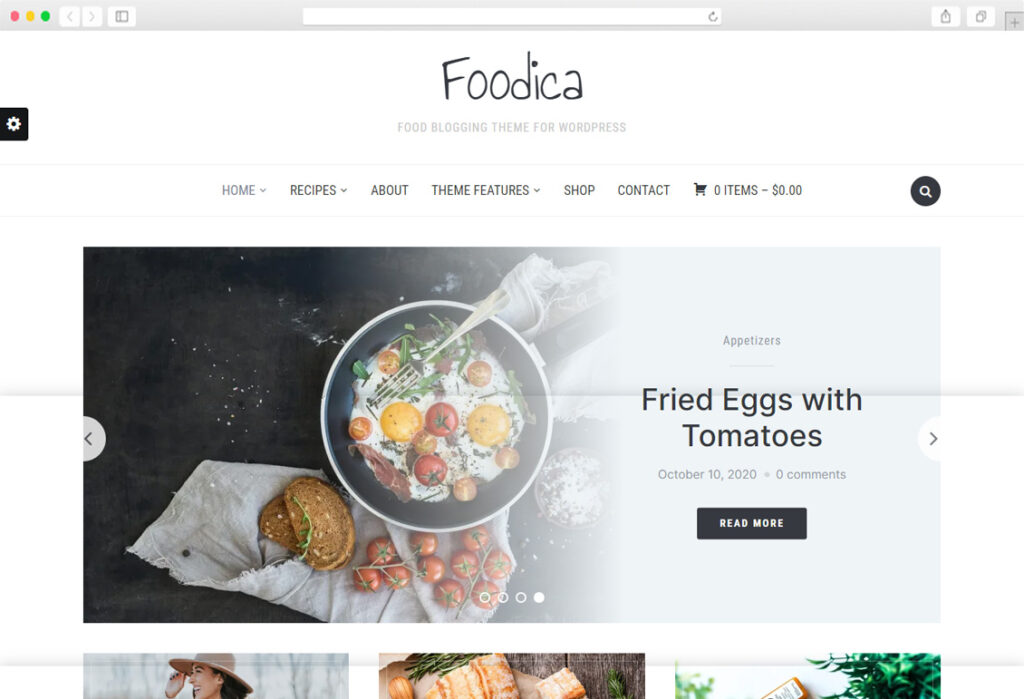 Foodica is an exceptional WordPress theme designed specifically for food bloggers, offering a clean and modern design. A major highlight of Foodica is its unique recipe index feature, allowing your visitors to easily find your recipes sorted by categories.
The theme also comes with six color schemes, custom widgets for social media, and a responsive design ensuring your website looks appealing on all devices. Additionally, its integration with WooCommerce allows you to set up an online store easily to sell your cookbooks or culinary products.
DOWNLOAD / DEMO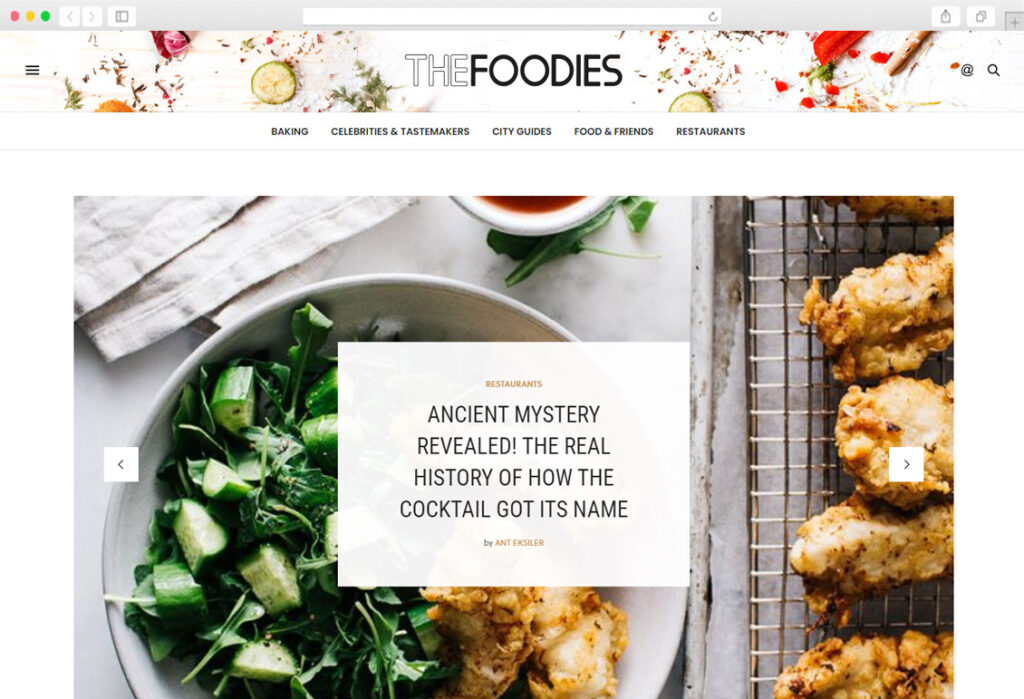 The Voux is a comprehensive WordPress theme ideal for food bloggers looking for a visually appealing and feature-rich platform. The theme includes multiple pre-made homepages and layouts that you can customize using the WPBakery page builder.
With a strong emphasis on social sharing, The Voux enables your readers to share your recipes with just a click, helping you expand your online presence. Furthermore, it supports infinite loading, ensuring a smooth and seamless browsing experience for your readers.
DOWNLOAD / DEMO
Bridge is a creative and multipurpose WordPress theme, with a selection of beautiful templates designed specifically for food blogs. Its drag-and-drop page builder and vast array of customizable options provide you with the freedom to craft a unique look for your blog.
The theme also comes with a powerful search feature, enabling your readers to find their favorite recipes easily. Additionally, it is fully integrated with WooCommerce, making it easy to sell your food products or services directly from your blog.
DOWNLOAD / DEMO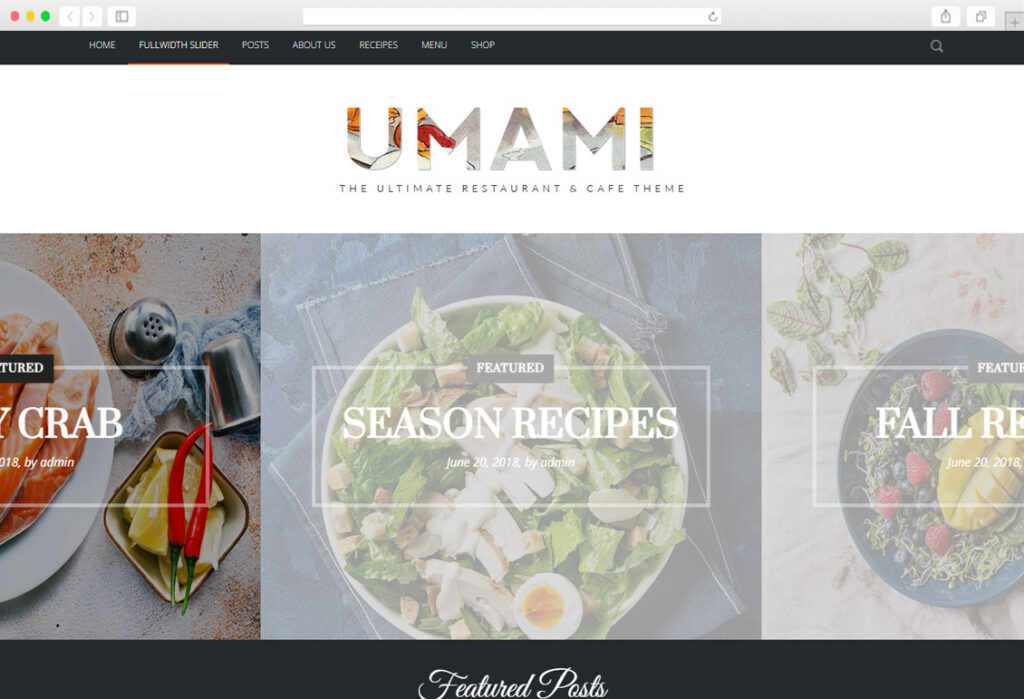 Picante is a WordPress theme primarily created for restaurants and cafes but is also well suited for food blogs. It offers an elegant design, recipe management system, and dedicated spots for advertisements, making it easier to monetize your blog.
One of its striking features is its online reservation and booking system which can be a valuable addition for bloggers hosting culinary classes or events. Moreover, Picante is SEO-optimized, helping your blog achieve higher visibility on search engines.
DOWNLOAD / DEMO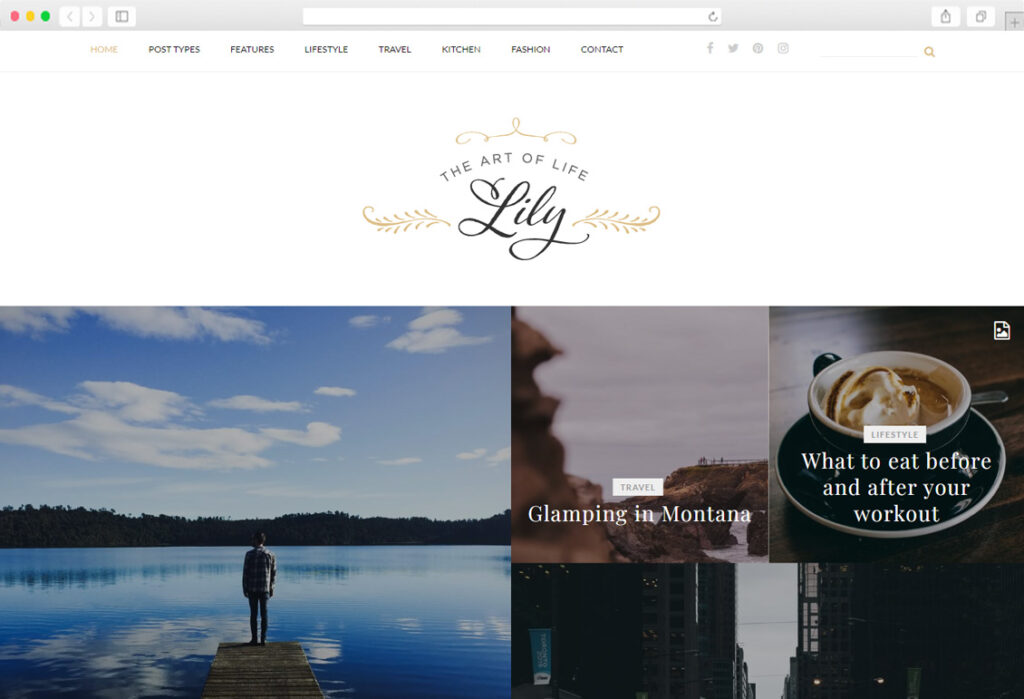 Lily is an elegant WordPress theme, ideal for food bloggers who favor a minimalist aesthetic. The theme is designed with a clean, clutter-free interface that highlights your content, while its responsive design ensures your blog looks stunning across all devices.
A standout feature of Lily is its custom recipe and ingredients builder that allows you to create engaging, easy-to-follow recipes. In addition, it offers a variety of post layouts, a customizable header, and is WooCommerce compatible, offering the ability to sell products directly from your blog.
DOWNLOAD / DEMO
Newspaper, while designed primarily for news websites, works remarkably well for food blogs too, offering a wide range of pre-built templates to match your content style. Its intuitive tagDiv composer, front-end page builder, allows you to customize your site with ease.
One key strength of Newspaper is its impressive handling of multimedia content. This ensures your mouth-watering food images and videos are displayed optimally. Furthermore, it supports Google AMP and mobile indexing, which enhances loading speeds, offering your audience a seamless browsing experience.
DOWNLOAD / DEMO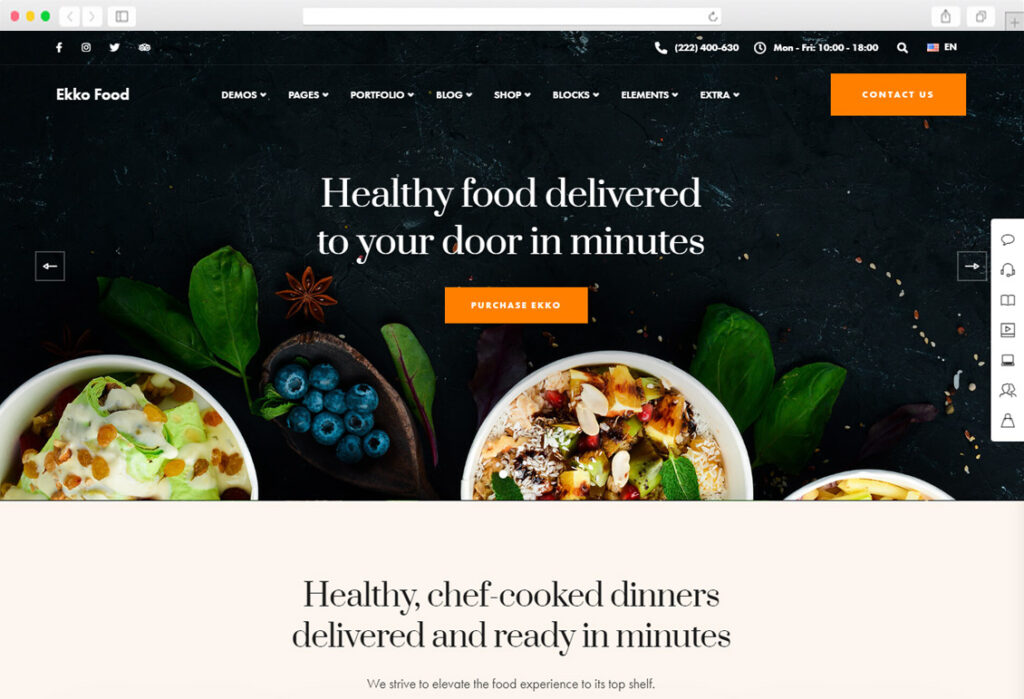 Ekko is a multi-purpose WordPress theme with over 50 pre-built demo sites, including one specifically designed for food bloggers. Its strong feature is the one-click demo import, allowing you to kick-start your food blog within minutes.
In addition to its modern and fully-responsive design, Ekko is compatible with the popular drag-and-drop WPBakery page builder. This provides an easy and intuitive way to create and customize your pages. Furthermore, Ekko supports WooCommerce, making it a good choice if you plan to sell products or services on your blog.
DOWNLOAD / DEMO
Jannah is a versatile and highly customizable WordPress theme suitable for a variety of blog niches, including food. It offers a stunning design coupled with a host of practical features such as the 'Minified Version for Mobile' that ensures your site loads quickly on mobile devices.
A unique feature of Jannah is the integrated schema markup, improving your blog's visibility in search engine results. Additionally, the theme is built with monetization in mind, offering dedicated ad spaces and compatibility with the WooCommerce plugin for seamless e-commerce integration.
DOWNLOAD / DEMO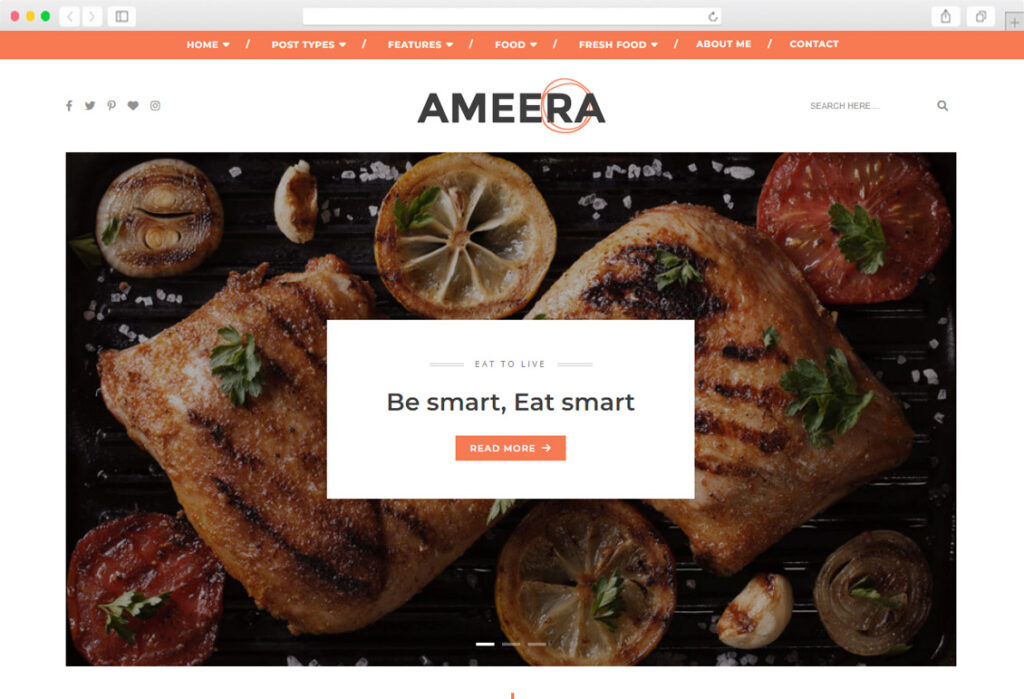 Paperio is a sleek and responsive WordPress theme that's a great choice for food bloggers. With seven creative and unique multi-page demos, including a stylish food demo, Paperio offers a wide variety of design options for your blog.
The theme offers a live customizer with preview, allowing you to make changes and see them in real-time. Moreover, Paperio comes SEO-ready to help your food blog rank higher in search engine results and draw more traffic.
DOWNLOAD / DEMO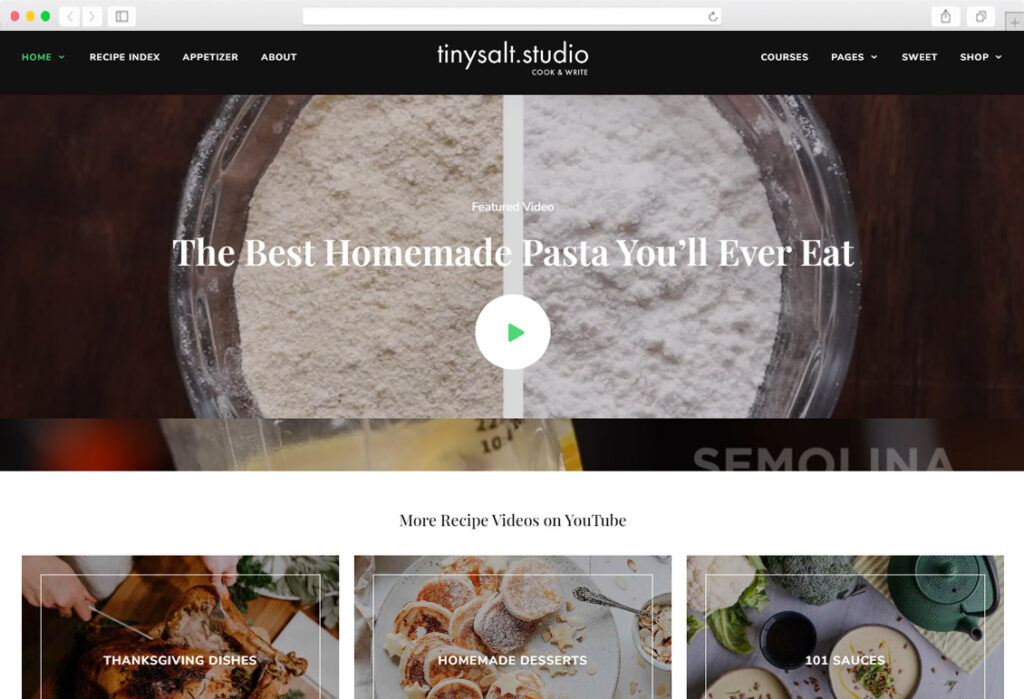 Designed specifically with food blogs in mind, TinySalt offers a fresh, modern aesthetic and features a built-in recipe plugin that makes creating and displaying your recipes a breeze.
This theme also comes with a variety of homepage and blog layouts, so you can customize your site to your preference. Notably, TinySalt supports the WooCommerce plugin, making it easy for you to create an online shop and sell your products.
DOWNLOAD / DEMO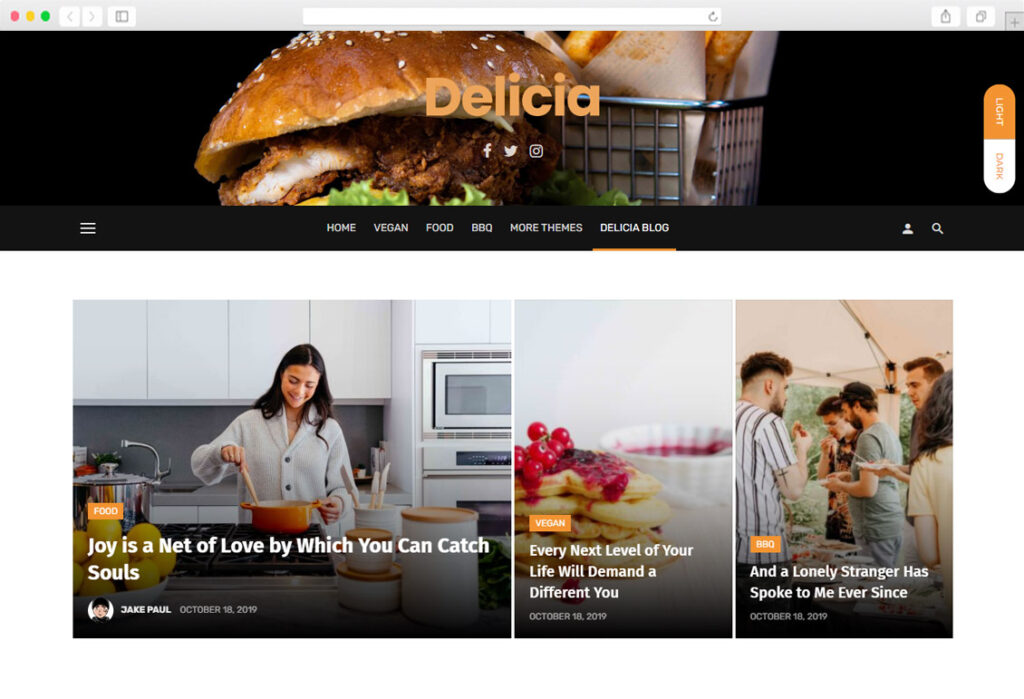 Suga is a stylish and modern WordPress theme designed for bloggers who need a beautifully designed, responsive website. While not exclusive to food blogging, it offers an elegant layout that would perfectly suit culinary enthusiasts.
Key features of Suga include multiple unique demo sites, the BKNinja Composer Plugin for easy post creation, and Ajax Load Posts to keep your readers on your site longer. Moreover, its compatibility with WooCommerce makes it easier to sell your products and services directly from your blog.
DOWNLOAD / DEMO
Morning Time is a stunning WordPress theme ideal for personal blogs, including those dedicated to food and cooking. It offers a clean design that effectively highlights your posts, helping you engage your readers more effectively.
Its standout feature is the built-in podcast functionality, perfect for bloggers who want to incorporate audio content into their site. Furthermore, Morning Time offers a robust Framework options panel for customization, making it a convenient and versatile choice for food bloggers.
DOWNLOAD / DEMO
Piemont is an elegant and fast-loading WordPress theme designed primarily for blogs. With its clean design, this theme is a perfect canvas for food bloggers to showcase their culinary masterpieces.
Piemont comes with a myriad of blog styles and color schemes, as well as a built-in rating system, allowing your readers to engage and interact with your posts. Plus, it is fully compatible with the WooCommerce plugin, allowing you to sell your products directly from your blog.
DOWNLOAD / DEMO
In conclusion, whether you're a food enthusiast sharing your latest kitchen exploits or a professional chef showcasing your signature dishes, the right WordPress theme can make a substantial difference. Each of these Food Blog WordPress Themes not only presents your content beautifully but also ensures a seamless user experience. They come packed with unique features to cater to your needs, enabling you to create a food blog that stands out. Remember, the best theme for your food blog is one that represents your style, matches your vision, and engages your audience in the most appetizing way. Happy blogging!