In today's digital age, having a professional online presence is not just an option; it's a necessity. If you're running a construction business, a well-designed website can significantly contribute to your success. Choosing the right WordPress Construction Theme is a critical decision as it affects the visual appeal, usability, and functionality of your site.
The market is filled with numerous options, which can make the process daunting. That's why we've curated a list of the 18 best WordPress Construction Themes, handpicked based on design quality, flexibility, responsiveness, and user reviews.
These themes cater to a diverse range of needs, offering customization options, advanced page builders, pre-built templates, seamless e-commerce integration, SEO optimization, and user-friendly interfaces. Let's delve in!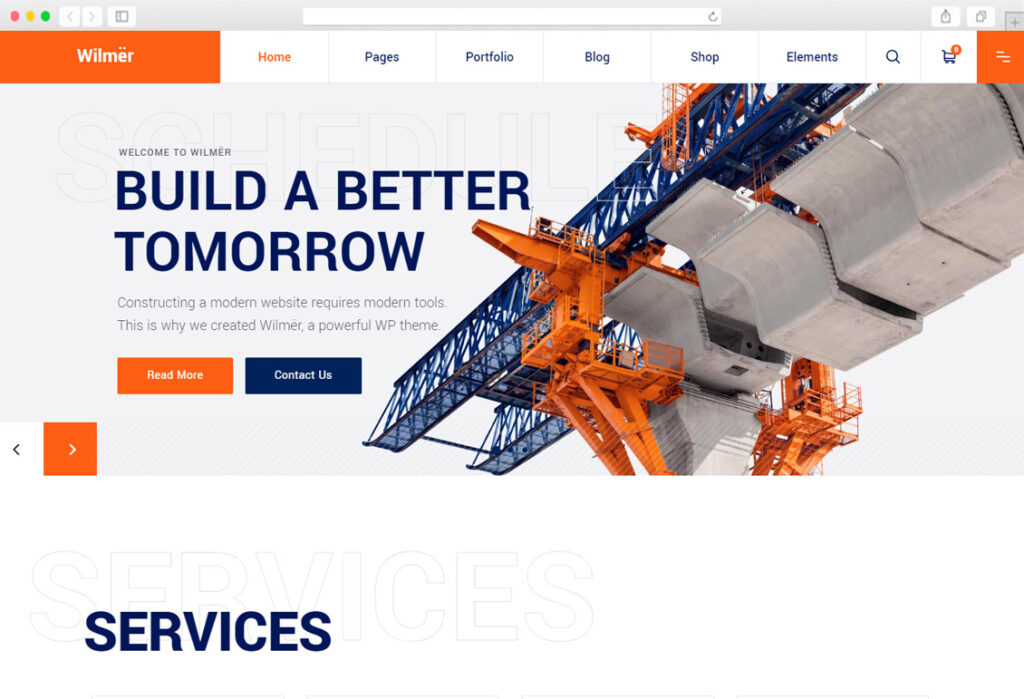 Wilmër is a powerhouse WordPress construction theme crafted with a focus on versatility. Its strong, modern design is paired with an array of useful features, making it a perfect choice for construction, architecture, or engineering websites. With Wilmër, you get a host of pre-designed templates, coupled with the easy-to-use WPBakery Page Builder for seamless customization. Its fully responsive design ensures your site looks great on all devices, and the integrated WooCommerce plugin supports smooth e-commerce operations. With its advanced SEO features, Wilmër also assists in enhancing your website's visibility in search engines.
DOWNLOAD / DEMO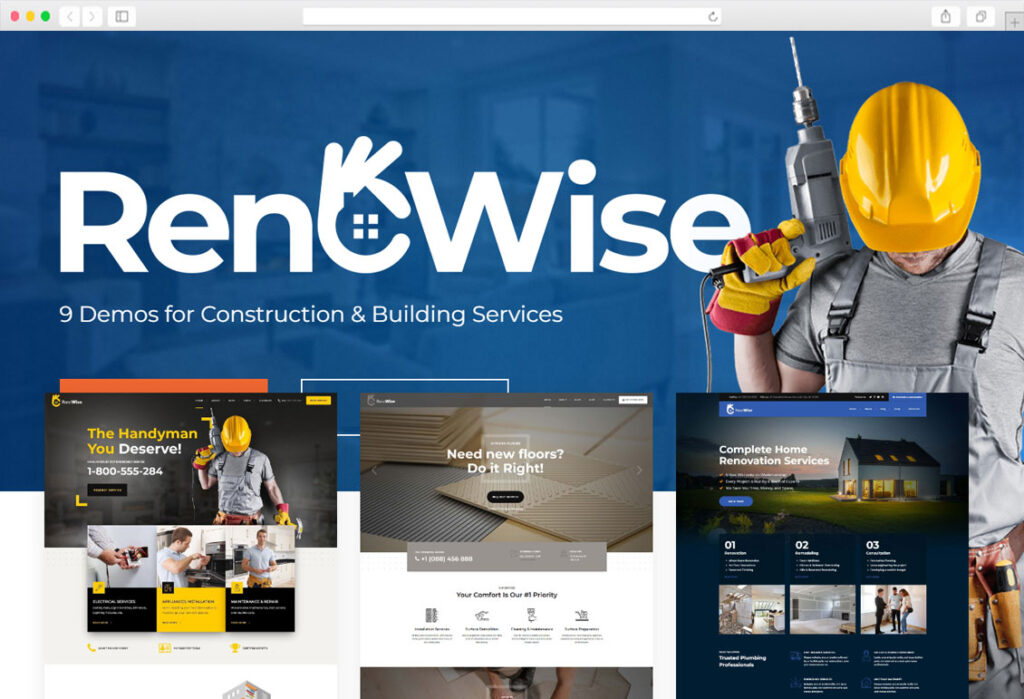 RenoWise is a robust WordPress Construction Theme tailored to meet the needs of construction and renovation businesses. Its key strength lies in its variety of pre-built demos and templates, offering a lot of flexibility in design. RenoWise features the popular Elementor page builder, allowing you to customize your site with ease. It is also optimized for speed and SEO, ensuring a smooth user experience and better ranking on search engines. With its one-click demo import and WooCommerce compatibility, RenoWise simplifies the process of building a professional online presence.
DOWNLOAD / DEMO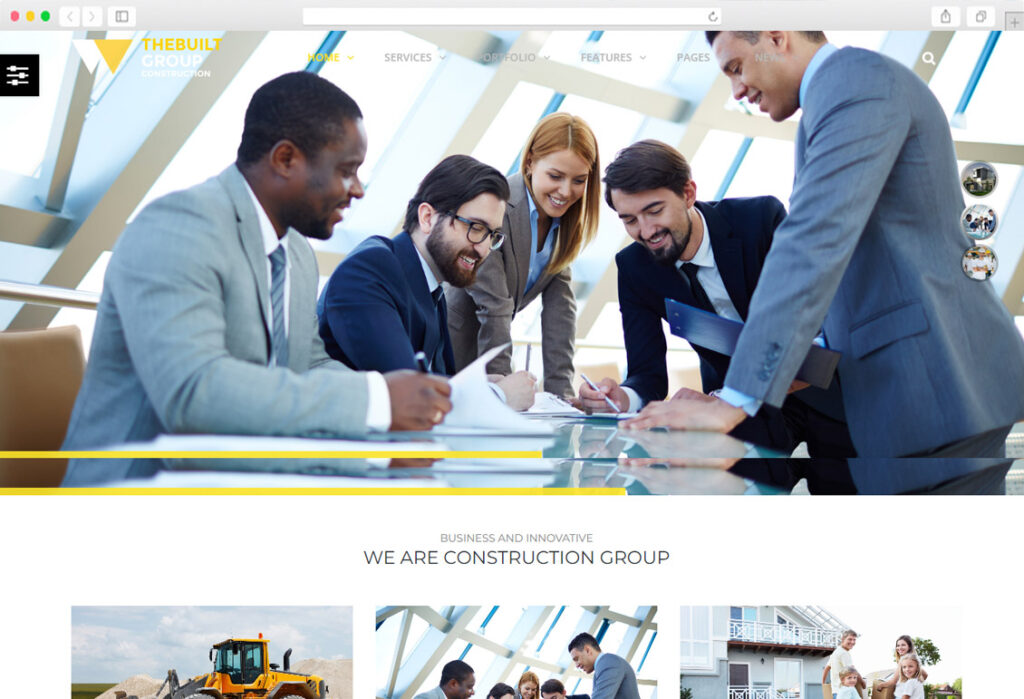 TheBuilt is a sleek and modern WordPress construction theme that stands out for its clean design and robust functionalities. Ideal for construction, architecture, and building companies, TheBuilt offers extensive customization options via the Muffin Builder and WPBakery Page Builder. With 14 pre-built demos, various header styles, and a responsive design, it provides the flexibility to create a unique, eye-catching website. It also integrates smoothly with WooCommerce for easy online transactions. Plus, it's SEO-optimized to help your site reach a wider audience.
DOWNLOAD / DEMO
BuildPress is a user-friendly and responsive WordPress Construction Theme known for its simplicity and functionality. It's a great fit for any construction business, offering five pre-built demos that can be imported with a single click. BuildPress is designed to integrate with the Elementor or WPBakery page builders, allowing you to customize your website with ease. It also comes WooCommerce-ready, facilitating hassle-free e-commerce activities. With its clean code and SEO-friendly structure, BuildPress supports better visibility on search engines.
DOWNLOAD / DEMO
In the ever-evolving digital landscape, having a well-structured and attractive website is critical to your business's success. Whether you prefer Wilmër's versatility, RenoWise's robust features, TheBuilt's sleek design, or BuildPress's user-friendliness, each of these WordPress Construction Themes offers unique strengths to suit various needs. Stay tuned as we continue to explore the rest of our top 18 list, ensuring you have the best options at your fingertips for your construction website needs.
Renovate is a dynamic and innovative WordPress construction theme ideal for construction, building, and renovation service providers. This theme provides 24 pre-defined page layouts, including multiple design options for project and service pages. Integrated with the Slider Revolution and WPBakery Page Builder, Renovate offers extensive customization options, allowing you to create a site that truly reflects your brand. It's fully responsive and Retina-ready, ensuring your site looks sharp on all devices. Additionally, it's SEO-optimized and comes with full WooCommerce support, setting you up for digital success.
DOWNLOAD / DEMO
Constructo WordPress construction theme is all about providing the perfect balance of power and simplicity. Known for its user-friendly interface, Constructo offers unlimited project and blog layouts, four predefined color schemes, and a range of customization options with the WPBakery Page Builder. The theme is fully responsive and features a one-click demo import functionality, making setup a breeze. It also supports WooCommerce integration for online sales and is optimized for top-notch SEO performance, helping you reach a broader audience.
DOWNLOAD / DEMO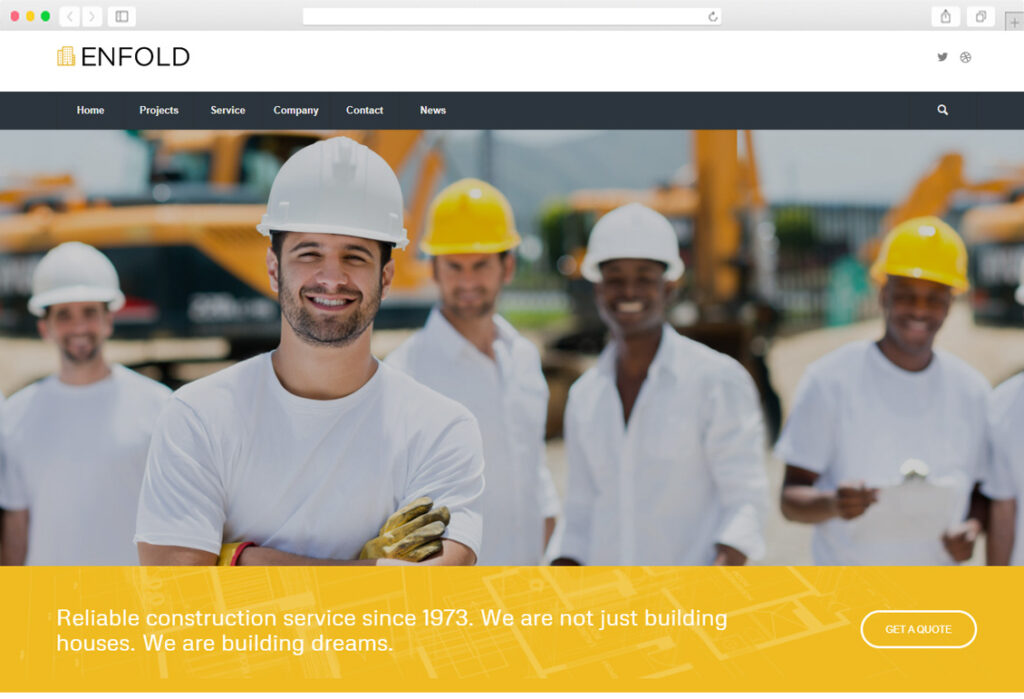 Enfold is a flexible and multi-purpose WordPress theme suitable for businesses across different industries, including construction. This theme is well-loved for its fully editable demo content and the proprietary Avia Layout Builder that simplifies page creation. Enfold comes with an adaptive, responsive design and a host of customization options, including various color schemes, header styles, and font options. Its SEO-friendly structure and WooCommerce compatibility add to its strengths, making it a robust choice for any construction business.
DOWNLOAD / DEMO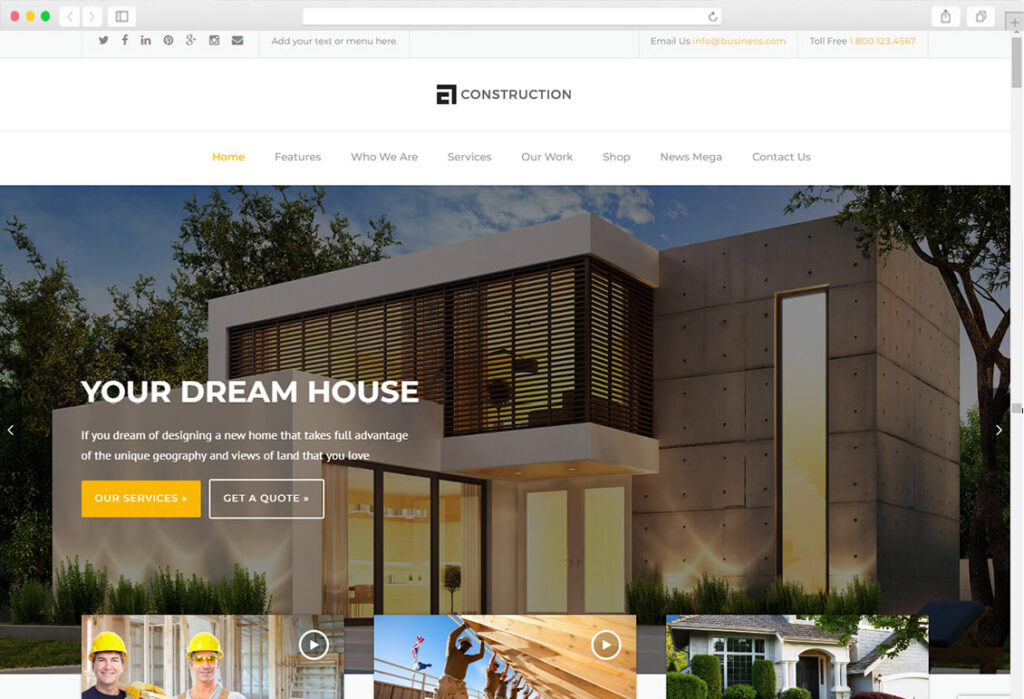 The aptly named Construction is a highly functional WordPress construction theme with a professional look. This theme is packed with useful features tailored for the construction industry, like advanced quote calculators and project showcases. It comes with several premium plugins like the Essential Grid and Slider Revolution for free, enhancing your customization possibilities. Moreover, the theme is fully responsive, ensuring optimal viewing experience across devices. Its integration with WooCommerce and SEO-friendly code makes Construction a practical choice for building your online presence.
DOWNLOAD / DEMO
Jevelin is a multi-purpose WordPress theme with an eye for versatility and performance. With a range of pre-built demos, including a dedicated construction layout, Jevelin allows you to set up a unique, personalized site with ease. It features an easy-to-use drag-and-drop page builder and a plethora of customization options to tweak the design to your liking. Fully responsive and mobile-ready, this theme ensures your site adapts well to any screen size. With SEO optimization and WooCommerce compatibility, Jevelin ensures you're ready to compete in the digital marketplace.
DOWNLOAD / DEMO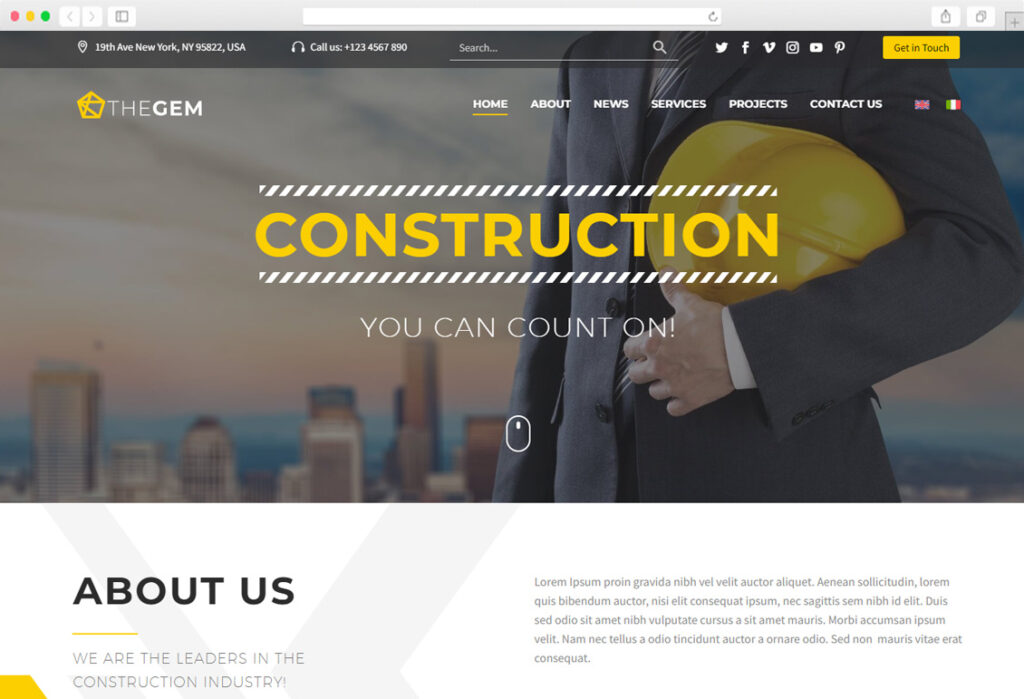 TheGem is a high-performance, versatile WordPress theme that serves a variety of purposes, including construction. Known for its exceptional design quality, TheGem offers over 400 creative templates, among which you'll find several tailor-made for the construction industry. The theme integrates with popular page builders like Elementor and WPBakery, providing you with a user-friendly experience. It's fully responsive, retina-ready, and optimized for SEO, ensuring your website functions seamlessly and ranks high on search engines. Plus, TheGem supports WooCommerce for easy e-commerce activities.
DOWNLOAD / DEMO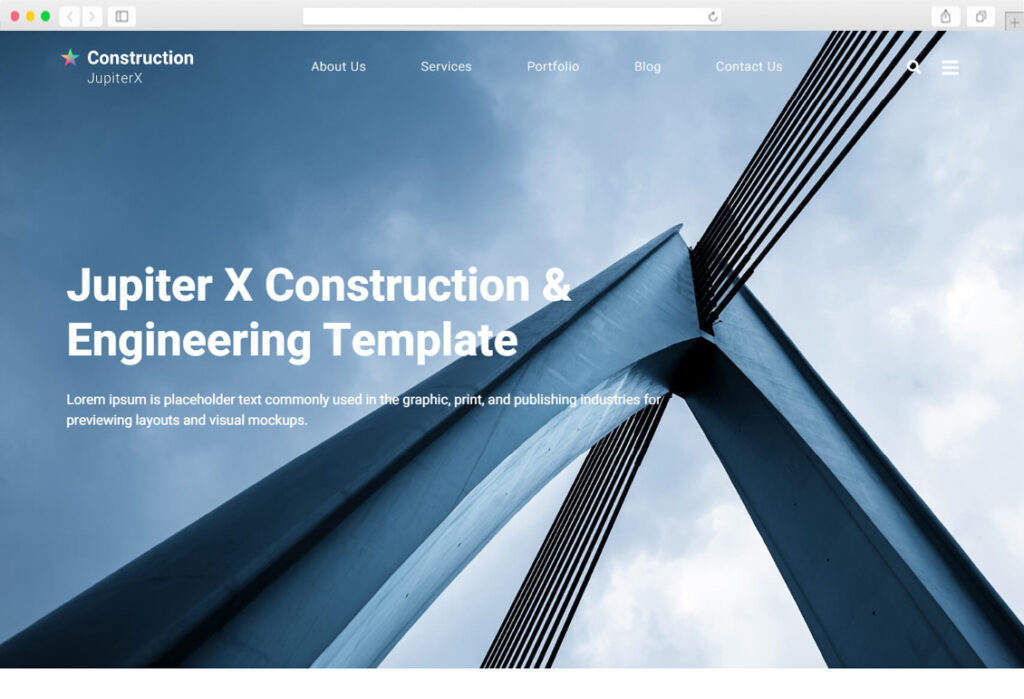 JupiterX is a lightweight and powerful WordPress theme, making it an excellent choice for construction websites. It comes with unique features like the Header and Footer Builder and hundreds of pre-made website templates, giving you the flexibility to design your website according to your preferences. With its Elementor Page Builder integration, customizing your site is a breeze. JupiterX is also fully responsive, SEO-friendly, and supports WooCommerce, rounding off a comprehensive package that will meet and exceed your online business needs.
DOWNLOAD / DEMO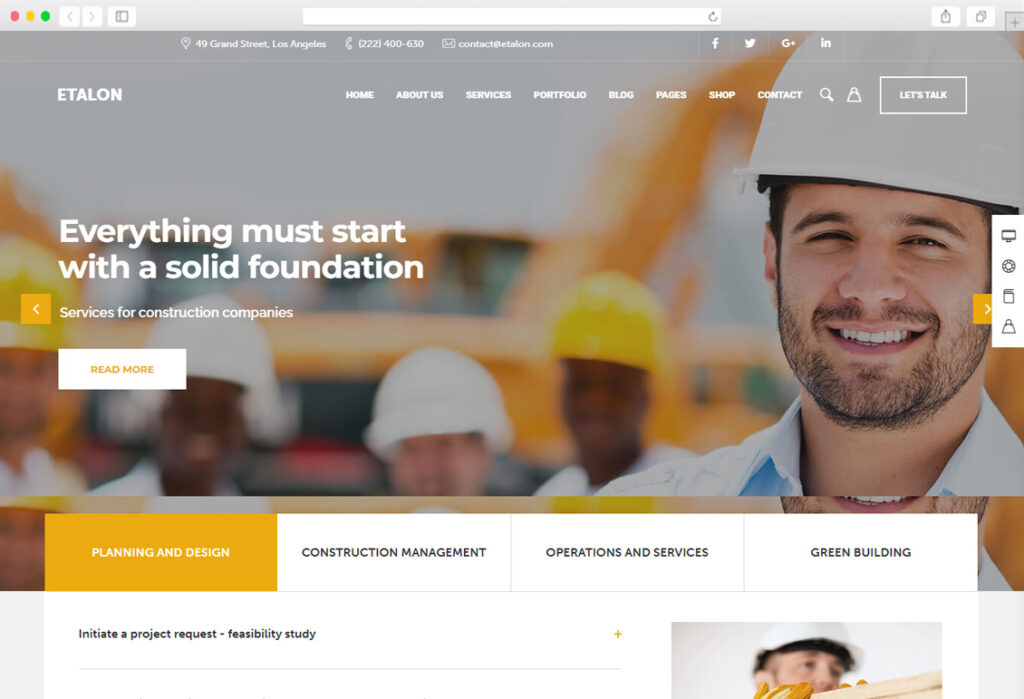 Etalon is a multi-concept WordPress theme, boasting over 20 professional website demos, including a dedicated design for construction businesses. Its key features include a range of premium plugins, such as Slider Revolution and Visual Composer, enabling you to create a high-quality, customized site. Etalon offers a responsive design and is retina-ready, making your site look perfect on any device. The theme is also SEO-optimized, helping you rank better on search engine results, and supports WooCommerce for e-commerce activities.
DOWNLOAD / DEMO
Karma is a fully responsive and highly customizable WordPress theme, suitable for all types of businesses including construction. It features a variety of pre-built templates and integrates with the Elementor page builder, providing a seamless, user-friendly customization experience. Karma offers a range of features like a color-changing logo, UberMenu compatibility, and a variety of sliders to enhance your website's visual appeal. It's also SEO-optimized and WooCommerce-compatible, ensuring your website performs well both in terms of visibility and functionality.
DOWNLOAD / DEMO
Tower is a versatile and robust WordPress theme that combines power with simplicity. It offers over 20 unique demos, including a dedicated construction demo, allowing you to get your site up and running quickly. The theme comes with the Redux Framework Theme-Options Panel, offering comprehensive customization options. Tower also features a responsive design, so your site will look stunning on all devices. Its SEO-friendly structure and WooCommerce integration ensure your site is set up for success in the digital sphere.
With various premium features and exceptional functionalities, these WordPress Construction Themes are sure to add value to your construction business. Stay tuned as we continue to uncover the remaining options in our list of top 18 WordPress Construction Themes
DOWNLOAD / DEMO
Divi is not just a WordPress theme, it's a complete design framework that gives you the power to create spectacular designs with surprising ease and efficiency. Its popularity in the WordPress community is largely due to its advanced visual builder technology that lets you design on the front end with real-time preview.
Divi comes packed with 40+ website elements, 800+ pre-made designs, and 100+ full website packs – including a dedicated construction layout. The possibilities with Divi are endless: you can customize everything from headers, and footers, to global elements. Fully responsive editing ensures your site looks great on mobile devices, too. SEO optimization and WooCommerce support are built-in, making Divi an excellent all-around choice for your construction business.
DOWNLOAD / DEMO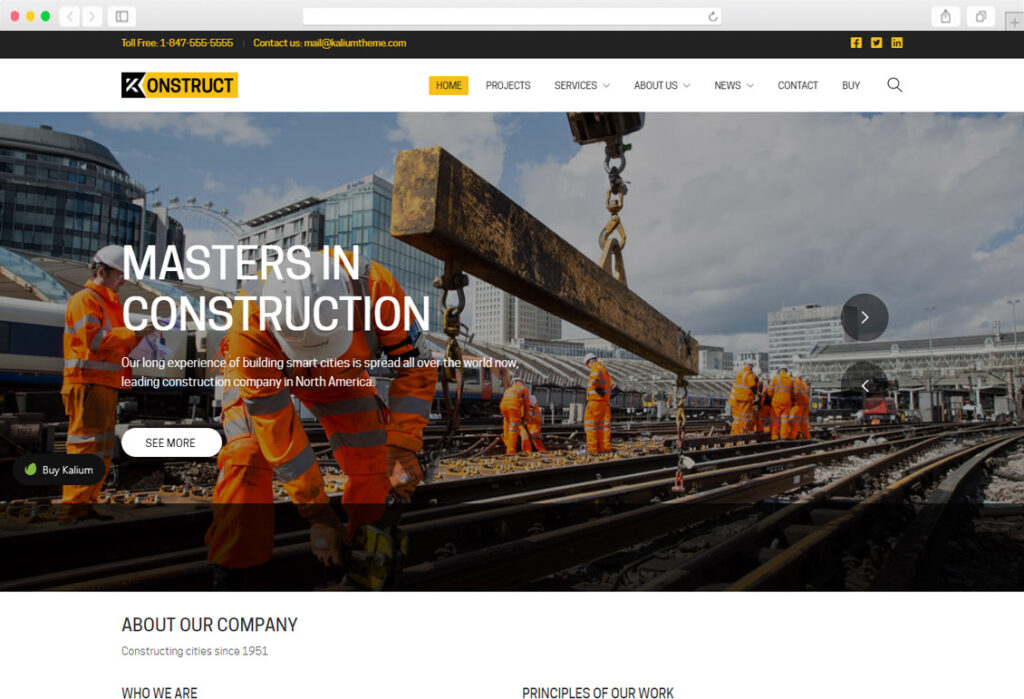 Kalium is a multi-purpose WordPress theme suitable for various types of businesses, including construction and architecture. This theme stands out for its creative and professional designs, offering a range of pre-made demo websites which you can install with a single click. You also get a rich set of layout designs and template pages, so you can tailor your website to your exact needs.
Kalium integrates with popular page builders like WPBakery and Elementor, allowing for easy customization. It's also fully responsive and retina-ready, ensuring a flawless look on all devices. Furthermore, Kalium is SEO-optimized and compatible with WooCommerce. With its clean, fast, and lightweight structure, Kalium provides an optimal user experience while helping you rank higher on search engine results.
DOWNLOAD / DEMO
KALLYAS is a multi-purpose WordPress theme with a powerful visual builder and a wealth of features, making it a suitable choice for construction websites. Its standout feature is the Zion Builder, an intuitive visual page builder that lets you design your website in real-time with no coding required. It also offers a library of pre-made templates, including several dedicated to construction, to help you get started.
KALLYAS is fully responsive, ensuring your site looks its best on any device. It also comes with powerful SEO tools to help enhance your online visibility. The theme supports WooCommerce, so you can easily set up an online store or service booking system. Its vast range of features and customization options make KALLYAS a versatile choice for your construction website.
DOWNLOAD / DEMO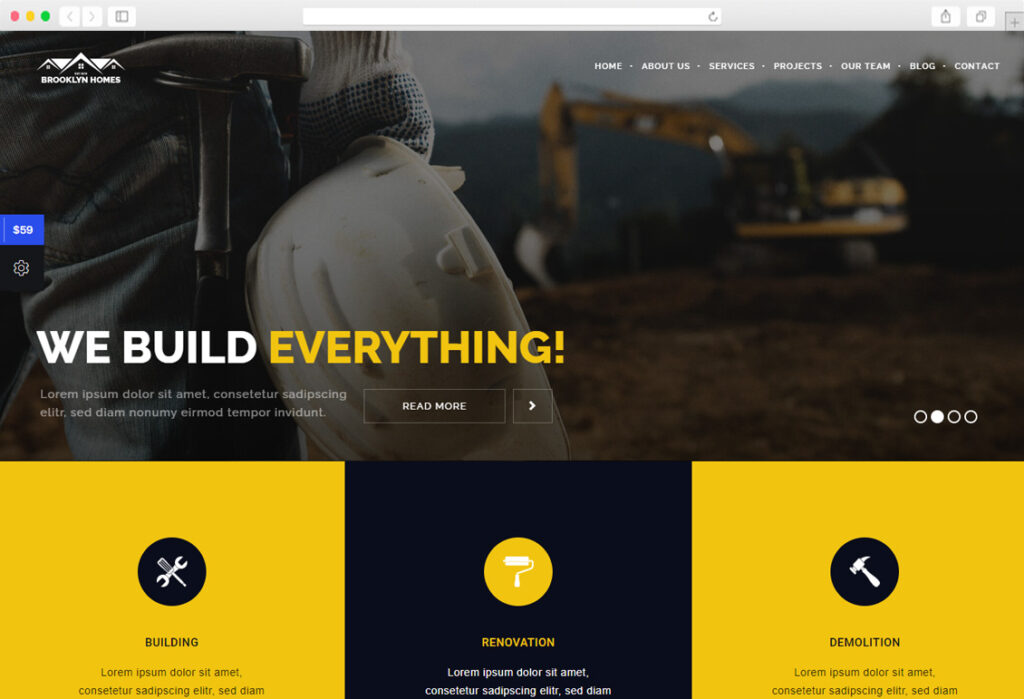 Brooklyn is a versatile WordPress theme known for its striking designs and extensive customization options. It offers over 40 complete pre-built websites, including a construction-themed demo, which you can install with one click. Each of these demos is fully customizable with the help of the powerful WPBakery Page Builder.
Brooklyn ensures your website will look fantastic on all devices thanks to its responsive design. It is also SEO-friendly, helping your site get the recognition it deserves in search engine rankings. Furthermore, the theme fully supports WooCommerce, making it easy to set up an online shop or accept payments for services. With its blend of power and simplicity, Brooklyn is a fantastic choice for your construction website.
DOWNLOAD / DEMO
Choosing the right WordPress theme for your construction business is crucial as it not only shapes the visual presentation of your brand but also impacts the user experience and the overall performance of your website. We have explored 18 of the best WordPress construction themes available, each with its unique design quality, customization options, responsiveness, and additional features like SEO optimization and WooCommerce integration.


Whether you're a construction business owner looking to establish an online presence, or a web developer searching for the perfect theme for a client, our list provides a diverse range of themes to suit various needs. From Divi's advanced visual builder to Brooklyn's striking design, these themes are equipped with features that can help you create an engaging, functional, and successful online platform for your construction business.
However, remember that the best theme for you will ultimately depend on your specific needs and preferences. Therefore, take the time to explore these options and choose one that aligns best with your business's identity and goals. Happy building!