In the dynamic digital era, where online businesses are blooming like never before, a well-chosen theme can spell the difference between a good website and a great one. With WooCommerce powering millions of online stores worldwide, the theme you pick isn't just about aesthetics; it's about harnessing optimum functionality, responsiveness, and a user-friendly interface.
In this guide, we've meticulously curated a list of the top 24 WooCommerce themes based on stringent criteria, which include design quality, flexibility, responsiveness, and user reviews. So whether you're looking to revamp your online store or set out on a brand-new e-commerce adventure, these themes promise to deliver results that are both impressive and efficient.
Best WooCommerce Themes
At the forefront of WooCommerce Themes, The7 is more than just a theme; it's a versatile powerhouse. With its seamless integration to WooCommerce, businesses can expect a flawless e-commerce experience. One of the theme's strongest features is its Design Wizard, which allows users to customize and tweak layouts without diving into code. Additionally, it offers over 40 pre-made websites which can be installed with a single click. Whether you're running a fashion store or a digital marketplace, The7's adaptability ensures your site looks and performs at its best.

DOWNLOAD / DEMO
Shopkeeper is a perfect blend of style and substance. Designed with e-commerce professionals in mind, it simplifies the process of setting up and managing an online store. Its highly customizable layout options provide a canvas for brands to narrate their story uniquely. From the onset, you'll notice its minimalist design which emphasizes product showcasing. Paired with its extensive documentation and regular updates, Shopkeeper ensures that business owners stay focused on what's essential – selling.
DOWNLOAD / DEMO
When it comes to multi-vendor marketplaces, Marketo stands out as a prime choice. Its clean and modern design is built on top of the Elementor page builder, offering a drag-and-drop experience that even beginners can appreciate. With Marketo, businesses can expect to receive features such as vertical and horizontal mega menu support, multiple shopping cart designs, and advanced product filtering. For online store owners keen on offering a wider range of products from various vendors, Marketo provides a platform that is as expansive as it is impressive.
DOWNLOAD / DEMO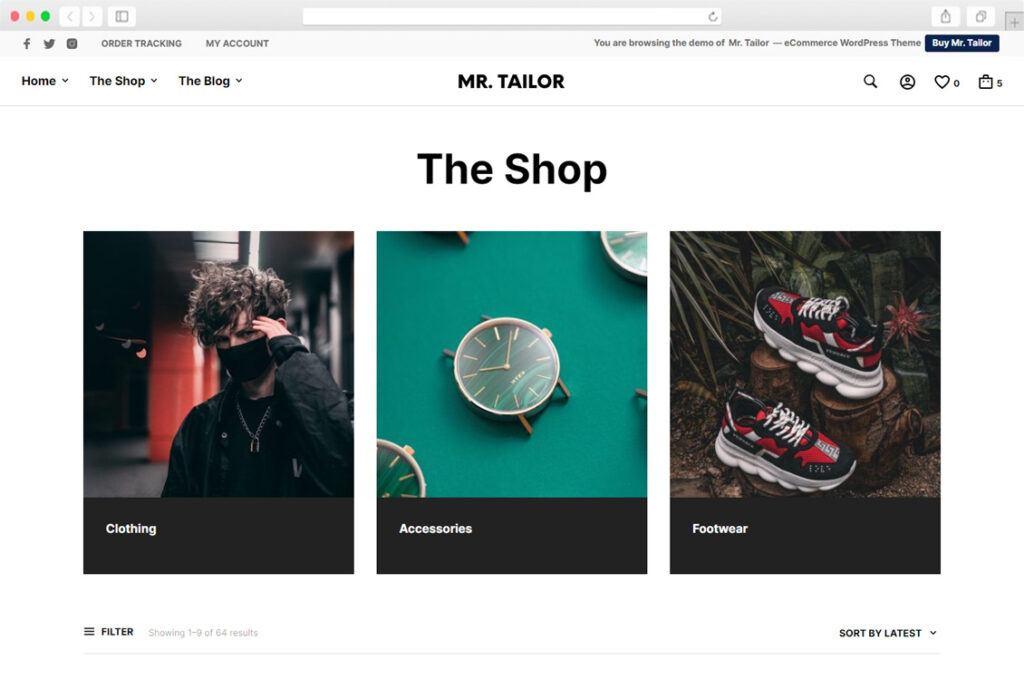 As the name suggests, Mr. Tailor crafts an online store experience tailored to your brand's narrative. Its intuitive visual composer makes it easy to design pages without ever touching a line of code. The theme places a strong emphasis on storytelling, with its beautiful typography and full-screen image capabilities. Whether you're a small boutique or a high-end fashion brand, Mr. Tailor's features, such as product sticky bars and parallax effects, will ensure your products are showcased in the most appealing light.
DOWNLOAD / DEMO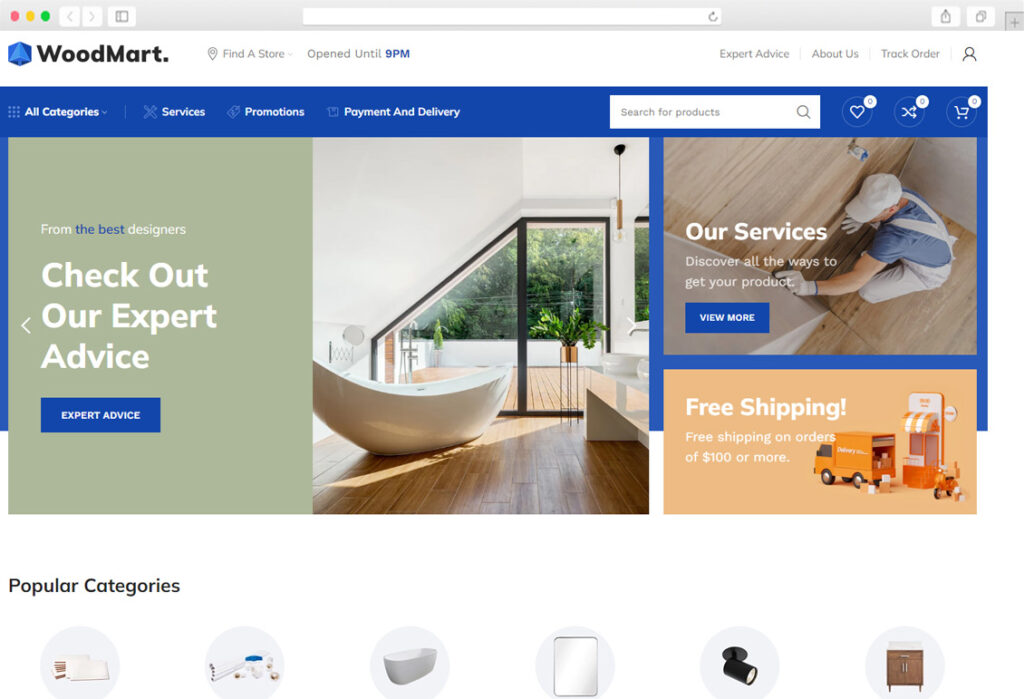 WoodMart is all about speed and versatility, tailored for those who crave a seamless shopping experience. This theme's responsive design ensures that your website looks and functions flawlessly across all devices, from desktops to mobiles. The AJAX-driven shopping cart facilitates instantaneous updates without needing to refresh the page, providing customers a smooth transaction process. Moreover, WoodMart offers over 60 demo layouts and a powerful theme settings panel, making customization a breeze. It's no wonder that both rookies and seasoned e-commerce entrepreneurs find solace in its robust functionalities.
DOWNLOAD / DEMO
Porto stands tall as one of the highest-rated WooCommerce themes in the market, and there's a solid reason behind it. Offering unparalleled speed optimization, it ensures that loading times never hamper your customer's shopping spree. Its plethora of demo variations means businesses from diverse niches can find a design that resonates with their brand voice. The Porto Optimizer tool, exclusive to the theme, lets users customize settings to achieve the best performance scores, solidifying its position as a front-runner in the WooCommerce theme space.
DOWNLOAD / DEMO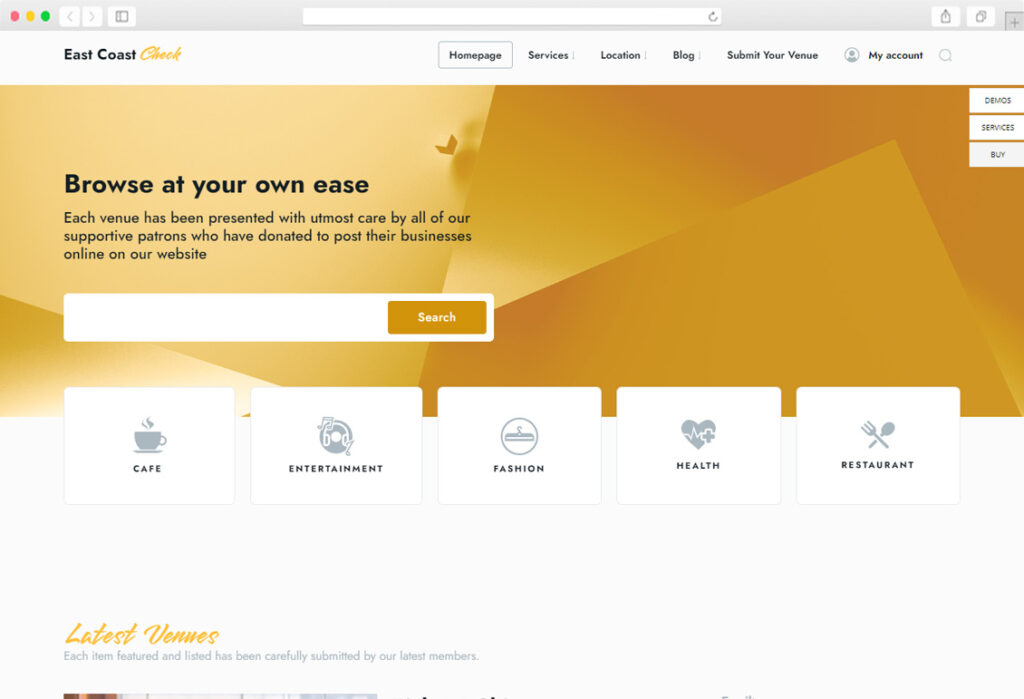 While Newspaper is renowned as a top-tier theme for magazines and news websites, its prowess in e-commerce integration is commendable. Thanks to its intuitive 'tagDiv Composer', users can effortlessly drag and drop elements to build their online store. The theme places a premium on aesthetics and readability, ensuring your products are showcased alongside captivating stories. Additionally, the built-in ad system allows businesses to monetize beyond just product sales, giving them an edge in the competitive digital market.
DOWNLOAD / DEMO
Beauty meets functionality with Salient. It's not just a theme; it's an experience. Salient offers a rich tapestry of stunning visual elements and animations, all of which can be tailored to suit an e-commerce storefront. Its adaptive image technology ensures your products look sharp across all device resolutions. With features such as off-canvas navigation, advanced typography, and a dedicated performance panel, Salient offers a holistic solution for businesses looking to leave a lasting impression on their visitors.
DOWNLOAD / DEMO
KALLYAS is a behemoth when it comes to versatility. Built upon the robust Bootstrap framework, it offers an ultra-responsive and lightning-fast storefront for your customers. With its visual page builder, users can create layouts and designs that resonate with their brand ethos. Its integration with WooCommerce is seamless, boasting features like multiple product page layouts, wishlist functionality, and product zoom for an enhanced shopping experience. Whether you're a tech store, a fashion boutique, or an art gallery, KALLYAS molds itself to amplify your brand's voice.
DOWNLOAD / DEMO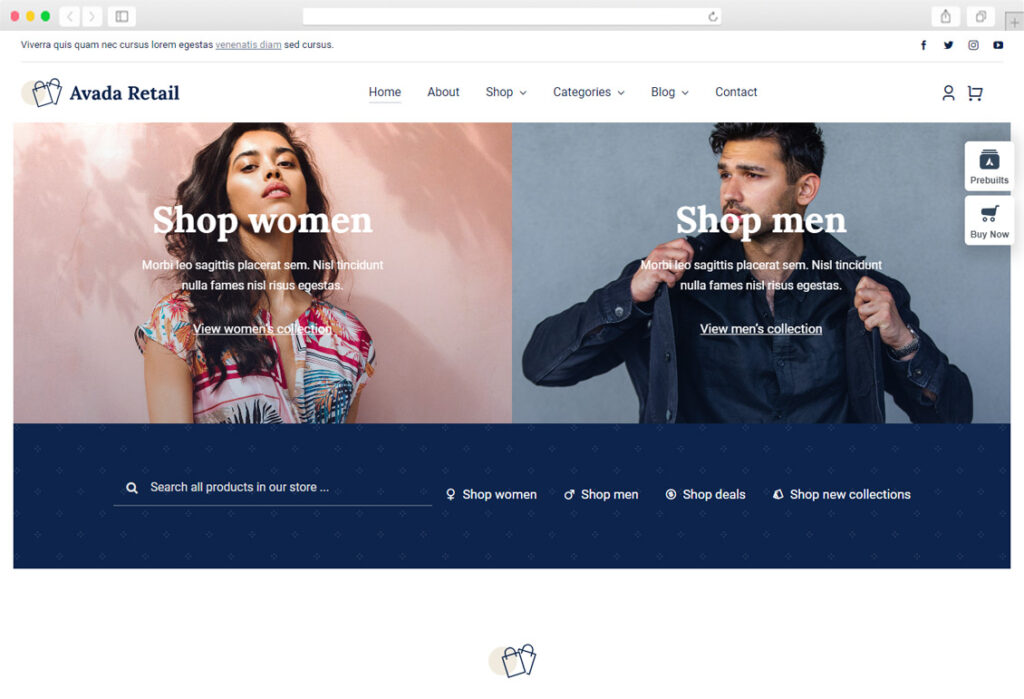 Touted as the #1 selling theme of all time, Avada needs no introduction in the world of WordPress. Its Dynamic Content System, combined with the Fusion Builder, paves the way for limitless design possibilities. For WooCommerce users, Avada offers a dedicated suite of tools and designs, from product carousels to intricate product galleries. Its SEO optimization ensures that while your store looks impeccable, it also ranks well on search engines, drawing in organic traffic and boosting sales.
DOWNLOAD / DEMO
The Basel theme epitomizes simplicity and elegance. Designed with the user in mind, its AJAX-driven interface provides customers with a seamless browsing experience. Features such as drag-and-drop page builders and a vast array of theme settings allow for in-depth customization without diving deep into the code. The theme's versatility is evident through its variety of shop layouts catering to fashion, furniture, wine, and even organic stores. With Basel, every small detail can be tailored to match your brand's essence and purpose.
DOWNLOAD / DEMO
Uncode is a pixel-perfect theme designed for creatives and businesses alike. Its adaptive images feature ensures your products are displayed crisply across all devices. With its tailored WooCommerce integration, Uncode transforms the ordinary shopping experience into an immersive journey. The Visual Composer, Slider Revolution, and LayerSlider are bundled in, allowing you to craft unique visual stories surrounding your products. If you're looking to break free from traditional e-commerce layouts and create something genuinely captivating, Uncode is your match.
DOWNLOAD / DEMO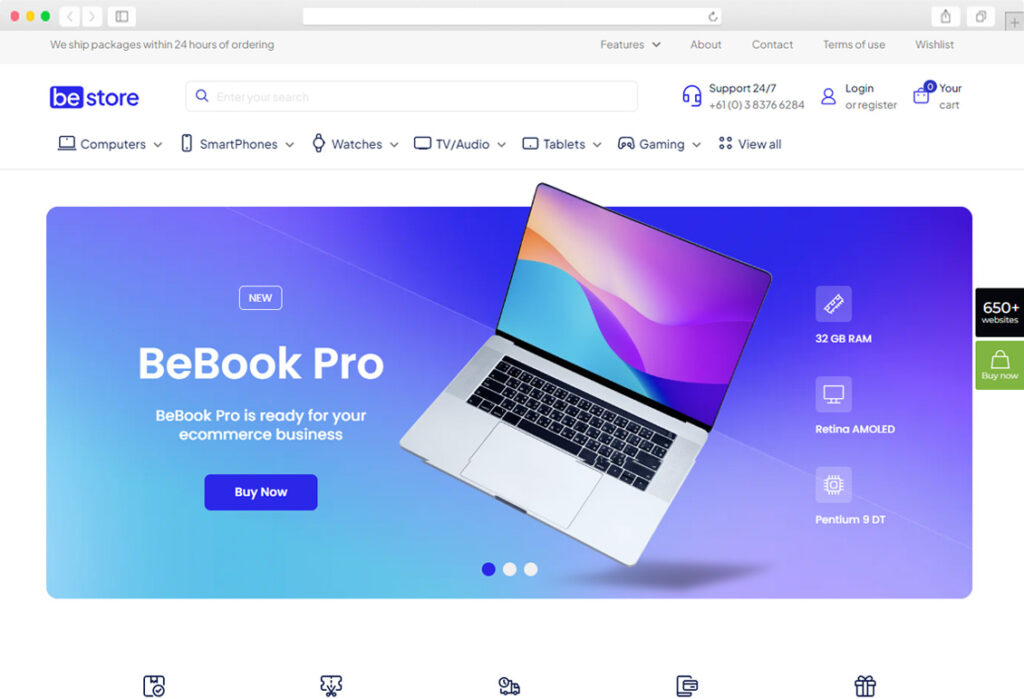 Beyond just being a theme, Betheme is a universe of possibilities. With over 500+ pre-built websites, of which a significant number are tailored for e-commerce, it offers a vast canvas for businesses to paint their narratives. Its 1-click installation means that even novices can get started without a hiccup. Muffin Builder, the core of Betheme, provides an intuitive drag-and-drop experience. Combine this with its rich header styles, custom fonts, and advanced portfolio layouts, and you've got a toolkit that can cater to any e-commerce vision.
DOWNLOAD / DEMO
Built for the modern marketplace, Martfury delivers a professional and robust solution for those looking to launch a multi-vendor platform. Its design is inherently responsive, ensuring users on any device enjoy a consistent shopping experience. Features such as live search, daily deals, and advanced filtering make product discovery a breeze for customers. Martfury also supports various plugins like Dokan, WC Vendors, and WCFM Marketplace, ensuring your multi-vendor platform is versatile and robust.
DOWNLOAD / DEMO
Flatsome boasts of being the top-selling WooCommerce theme for a reason. Its Live Page Builder and extensive element library ensure that businesses can craft unique storefronts without the need for any coding. Known for its high-speed performance, Flatsome ensures customers enjoy a lag-free shopping spree. With features like live theme options, drag-and-drop image grids, and a built-in slider and banner system, it stands as an all-in-one solution for any e-commerce endeavor.
DOWNLOAD / DEMO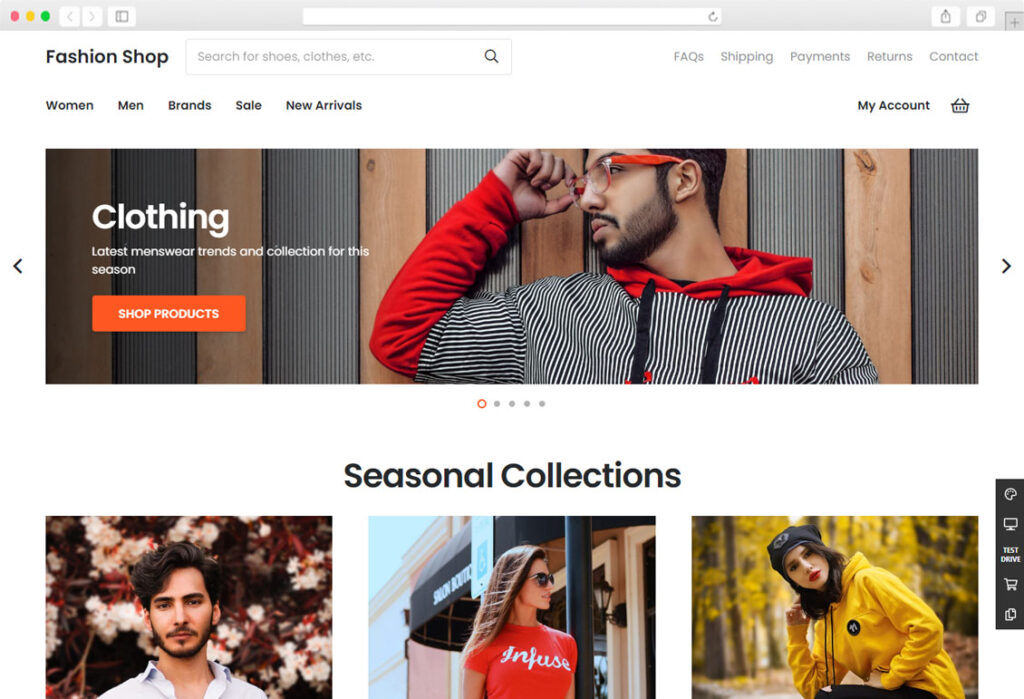 Impreza shines bright with its modern design and unmatched flexibility. Integrated seamlessly with WooCommerce, it offers a variety of shop layouts, product grids, and engaging product pages. Its header builder, a standout feature, allows for endless design possibilities, ensuring your site's topography aligns perfectly with your brand's voice. With Impreza, businesses also benefit from a vast collection of premium plugins at no extra cost, giving them the tools to scale and evolve their online storefront.
DOWNLOAD / DEMO
Savoy creates an ambiance of minimalistic elegance for online stores. With its AJAX-driven interface, customers can navigate and shop without unnecessary page reloads. The theme places a premium on product visualization, offering features such as full-screen product galleries, innovative hover styles, and adaptive image resolution. For those keen on crafting a modern, distraction-free shopping platform, Savoy stands as an impeccable choice.
DOWNLOAD / DEMO
As the name suggests, The Retailer is designed for commerce first and foremost. It's a classic, enduring WooCommerce theme that offers a gamut of features like product quick-view, unlimited shop designs, and customer reviews. Its step-by-step setup guide ensures even those new to WooCommerce can get their store up and running effortlessly. With its focus on typography and clarity, The Retailer ensures that products remain the centerpiece of the shopping experience.
DOWNLOAD / DEMO
Harnessing the power of Elementor, JupiterX stands out as a theme that redefines customization. Every pixel of your WooCommerce store can be tweaked to your liking, ensuring a truly unique online presence. Besides its aesthetic flexibilities, JupiterX boasts features like custom checkout pages, product list carousels, and quick view pop-ups, enhancing the shopping experience for visitors. Integrated with the powerful Raven plugin, it ensures compatibility with various post types, making it a comprehensive solution for businesses that seek to merge content with commerce.
DOWNLOAD / DEMO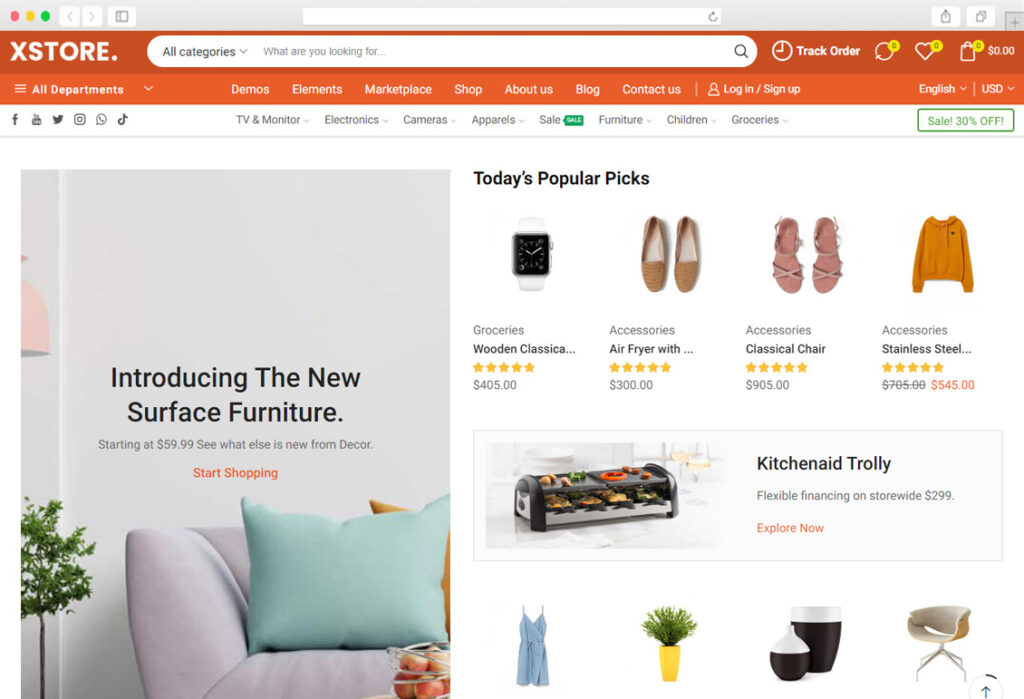 XStore champions itself as the kingpin of all WooCommerce themes, and for a good reason. With a staggering collection of 90+ good-to-go shops, businesses can set their store live in just a few clicks. Its native integration with WPBakery Page Builder and Slider Revolution means crafting unique layouts is a walk in the park. The theme also offers a range of e-commerce features such as off-canvas carts, live ajax search, and infinite scrolling, ensuring visitors remain engaged and captivated throughout their shopping journey.
DOWNLOAD / DEMO
Kalium personifies elegance and simplicity in the realm of WooCommerce themes. Its crisp design and typographic layout ensure products and content take center stage. But don't be fooled by its minimalist approach; under the hood, Kalium packs a punch. With pre-made demo sites, drag-and-drop content builder capabilities, and a vast array of customization options, it's a theme that balances functionality with aesthetics, catering to both seasoned businesses and startups.
DOWNLOAD / DEMO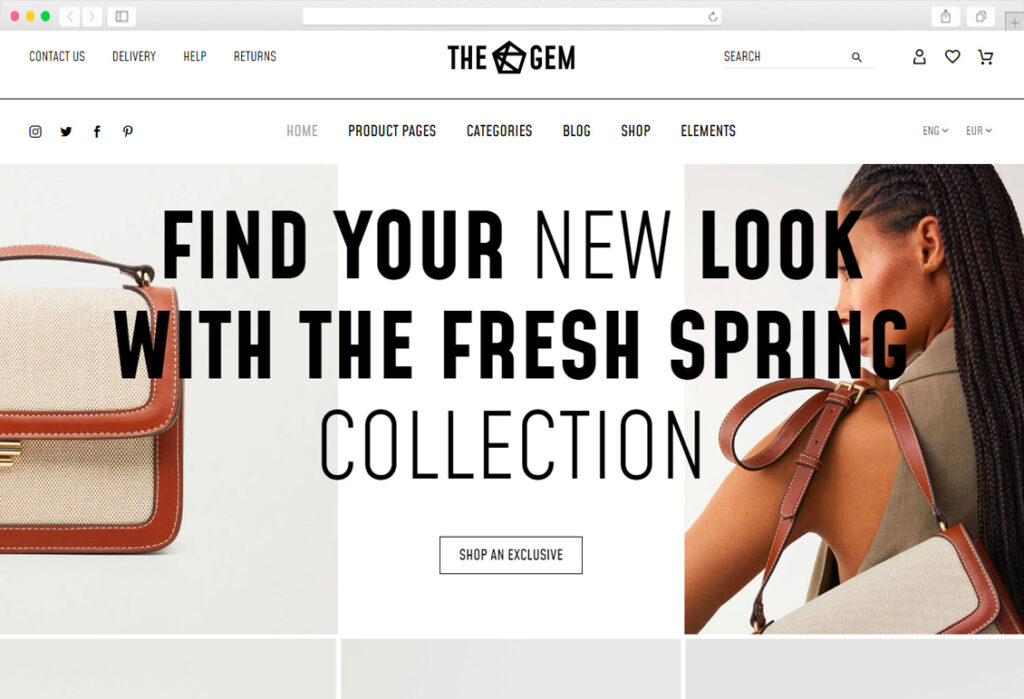 Dubbed as the 'Swiss Army knife' of WordPress themes, TheGem is a multi-purpose powerhouse. Integrated seamlessly with WooCommerce, it offers a plethora of unique styles and layouts tailored for online shops. From fashion to crafts to tech, there's a design for every niche. TheGem's emphasis on performance ensures your store remains snappy, improving user experience and SEO rankings. With features like flexible product columns, customizable quick views, and adaptive images, TheGem ensures that your e-commerce platform is as robust as it is beautiful.
DOWNLOAD / DEMO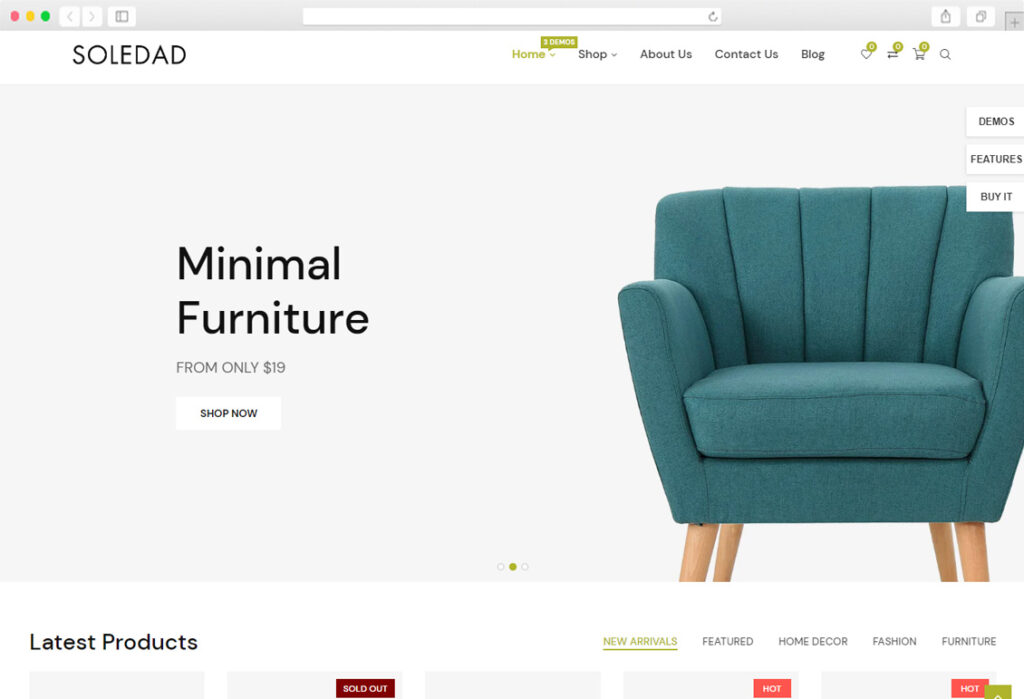 In the intersection of blogs and online stores lies Soledad, a theme that champions storytelling alongside commerce. Built with a focus on readability, Soledad ensures that products don't just sell, but also tell a story. Its compatibility with both WPBakery and Elementor means businesses have a variety of tools at their disposal to craft their narrative. With 6886+ demo homepages and a lightning-fast AMP integration, it's a theme crafted for those who seek to entwine their content with their product lineup.
DOWNLOAD / DEMO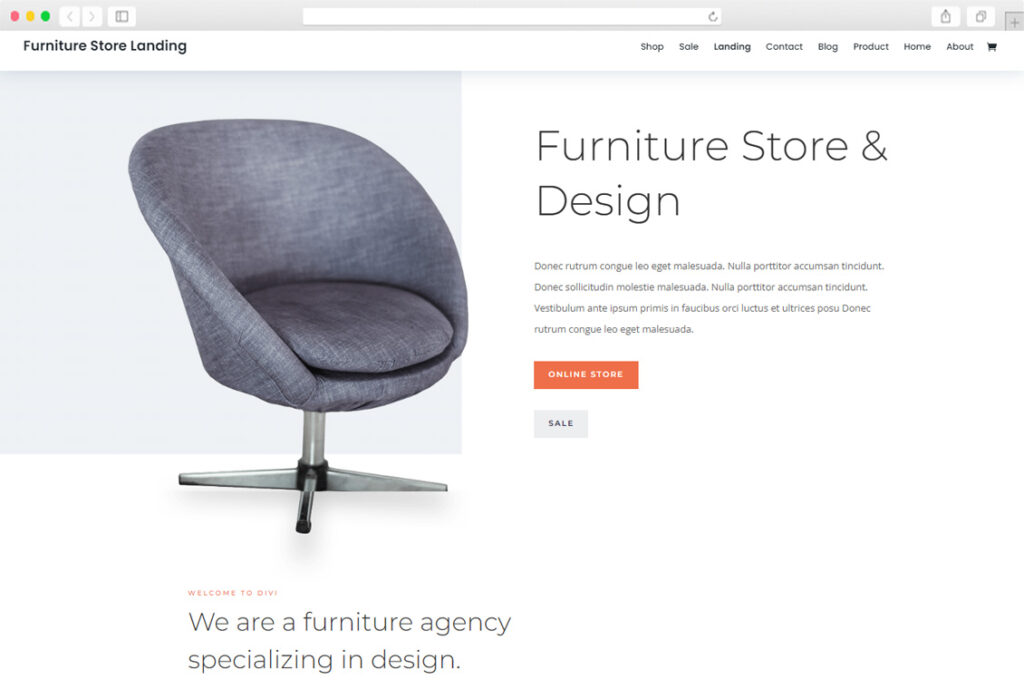 Last but not least, Divi is more than just a WordPress theme; it's a design framework. Its real-time design interface, combined with the plethora of pre-made layouts, ensures businesses have a vast canvas to sketch their visions. The theme integrates seamlessly with WooCommerce, offering custom modules to display products and categories elegantly. Divi's responsive editing tools enable businesses to tailor every aspect of their store, ensuring a seamless shopping experience across devices. With its extensive user base and active community, Divi remains a trusted companion for many in their e-commerce journey.
DOWNLOAD / DEMO
In the ever-evolving landscape of e-commerce, where the virtual storefront can make or break a business, choosing the right theme is paramount. Your theme not only establishes the first impression but also determines the user experience, functionality, and even the SEO performance of your site. This curated list of the 24 best WooCommerce themes showcases a diverse range of options, each offering its unique blend of design, versatility, and innovative features.


Remember, while aesthetics are crucial, a successful online store is the sum of many parts: speed, responsiveness, user interface, and ease of navigation, to name a few. So, when you embark on the journey to select a theme for your WooCommerce store, consider your brand's identity, your target audience's preferences, and the features that are essential to your business.
As the world of WordPress and WooCommerce continues to grow, so will the options available to entrepreneurs. Stay informed, experiment, and most importantly, choose a theme that aligns with your vision. Here's to creating an online store that's not just another marketplace, but an experience for your visitors. Happy selling!